The Ganga Maki Textile Studio is the last in our three-part series looking at path-breaking weaving facilities in different stages of development across the country, including The Handloom School and the Varanasi Silk Weaving Atelier. Beautifully built, innovative in design and sensitive to the human condition, these projects are at the forefront, addressing core tenets of a progressive craft industry. Their rural locations echo the beliefs of stakeholders and well-wishers of the industry that craft is best retained within its region of origin, and that quality of life is often positively related to proximity to one's home. 
Remarkably, these spaces have been conceptualized and designed by established and rising stakeholders. They represent a coming together of global minds – textile entrepreneurs, non-profits and architects – whose interest and investment in the future of weaving is important. How have these visions translated into actuality? What potential do they hold as case studies for larger scale entities? And how does this change in dynamic impact the karigar?
The Ganga Maki Textile Studio in Uttarakhand is a collaborative project undertaken by the Maki Textile Studio from Japan and commissioned to one of India's leading architecture firms, Studio Mumbai. We spoke to textile designer and founder, Chiaki Maki, and Bijoy Jain, Studio Mumbai's principal architect:
Project specifics
Location > Bhogpur. 30kms from Dehradun, Uttarakhand.
Project size > 1300 square metres
Partners and patrons >
> A studio set up in 1990 that is committed to creating hand-woven textiles and working closely and harmoniously with nature to cultivate and source raw materials.
Chiaki Maki
> A Rhode Island School of Design graduate, Chiaki Maki is a textile designer and the founder of Maki Textile Studio.
> One of India's most innovative architecture firms, based in Mumbai. 
Bijoy Jain
> The principal architect of the facility, founder and director at Studio Mumbai.
Budget > Undisclosed
Completion date > ~July 2016
Current status > Almost complete, the weavers will move in August 2016.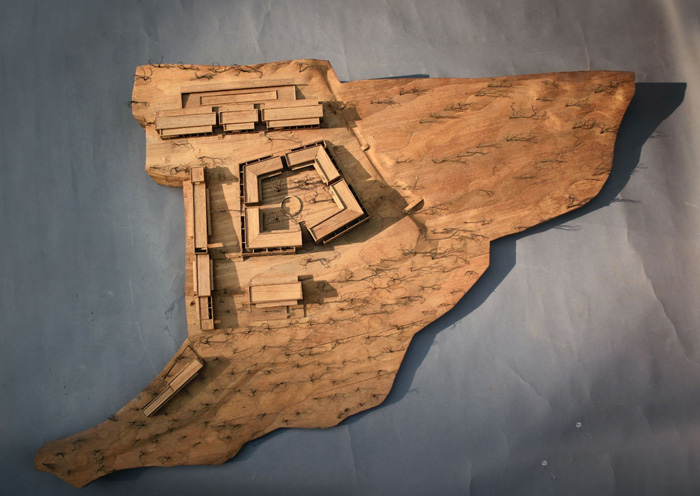 Above: image | model of the studio's layout
Concept
Chiaki Maki > The Maki Textile Studio is located in Akiruno, 50km west of Tokyo, a landscape rich in mountains, rivers and forest. We create handwoven textiles and have been working with weavers from India for over three decades. We designed this workshop in 2013 as a space for our Indian weavers who have helped our business over the years.
Ganga Maki Textile Studio depends on a close relationship with the sun and the moon because we use the existing agricultural terraces to cultivate indigo.
We start with reeling silk yarns from cocoons, growing dye plants (like indigo, henna, pomegranate, harshringar) and fiber plants (like fiber banana), and weaving them into fabric with other natural materials like wild silks (tasar, eri and muga), sheep wool, pashmina wool, yak wool, linen, cotton etc.—in tune with the season.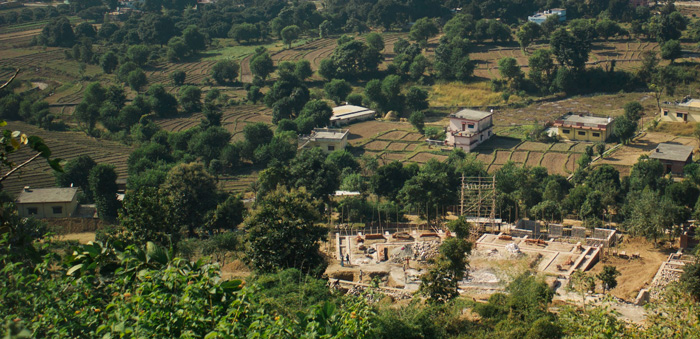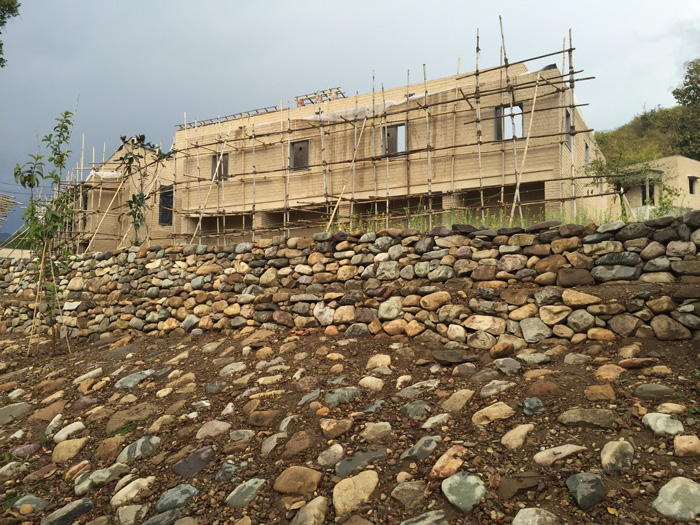 Above: images | landscape and structure
Intention
Chiaki > Our intention is to live and work in tune with nature as people once did. In the course of developing this project, our intention has become clearer; it evolved through discussing and exchanging our thoughts with Bijoy Jain, the lead architect. 
Our endeavour with the Studio is to embody and cultivate this cyclical relationship between work and life, the sun and the moon – bringing together the past, present and future. 
Bijoy Jain > I think what's important is the group of people that have come together to work on this project. What is very special is the experiences they bring. From the person making the structure strong, laying the bricks, working with lights, to Swiss master craftsmen coming to work here for 2-3 months. We've also had Chiaki's friends from Japan who are master plasterers for a couple of weeks and are coming back again for a month.
The manner in which it is being built makes all the difference:  thoughtfully and mindfully by all the participants. It is our common sensibility and working towards an idea or a possibility – and the unfolding of that.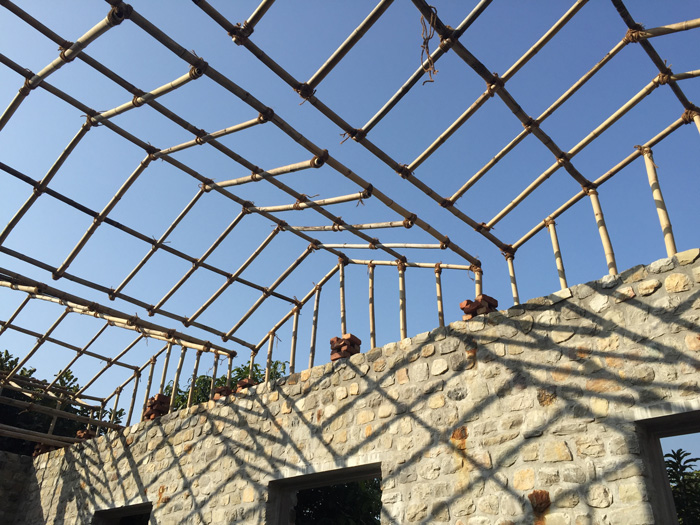 Above: image | structure
The architect
Chiaki > I met Bijoy in Japan through a friend of mine, a Japanese architect. I was very impressed by an exhibition of Studio Mumbai's work in Tokyo. My direction and Bijoy's way of working have some similarities. I create textiles for modern living by using natural materials with traditional and newly-invented skills, and I think Studio Mumbai does the same thing in the field of architecture. It has been extremely inspiring and joyful to work with Bijoy and Studio Mumbai on this project.
Above: image | materials include brick, lime and stone harvested locally
Bijoy > I value the presence and nuances in the diversity of all the people that have partaken in this project. To me that's more important than the facility being influenced by either Japanese or Indian architecture. Also, I value working with a client who is very particular and truly supports this kind of endeavor; she herself is in textiles and what she does has very much influenced design and development.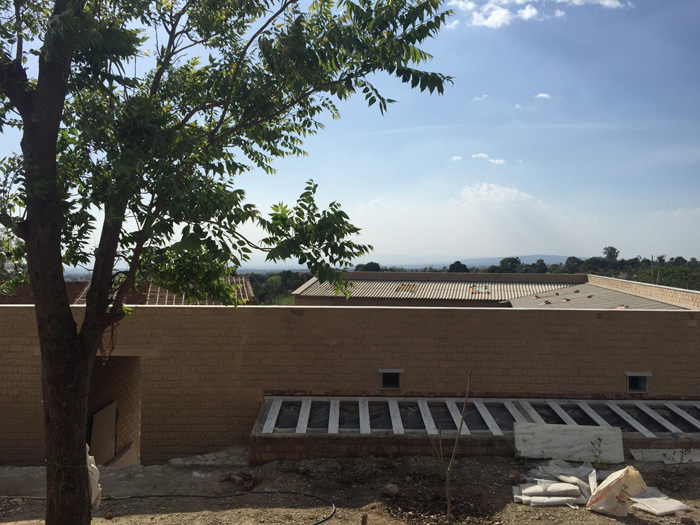 Above: the studio sits on the lower foothills of the Himalayas
Location
Chiaki > The land is located on the outskirts of Dehradun, sitting on the lower foothills of the Himalayas in the northern province of India. We wanted land without much prior development; a place where we have a mountain stream that is rich in water. The land we found was good since it was once an orchard and also a paddy field. The site is surrounded by rice and wheat fields cultivated by villagers, and has a forest at the back, which is wonderful.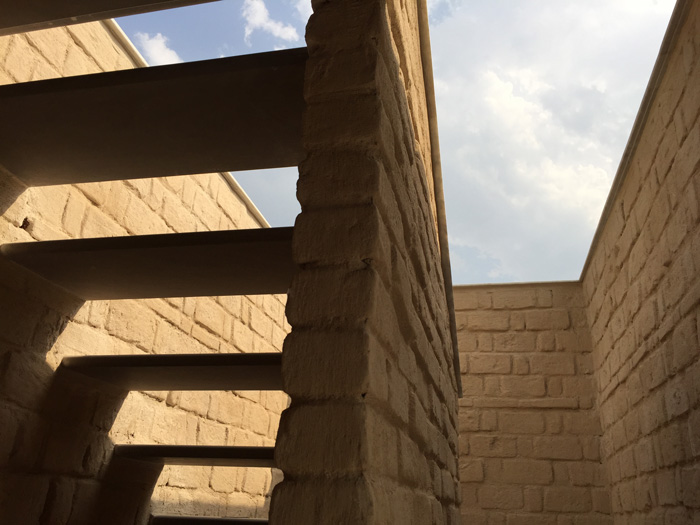 Above: image | materials include brick, lime and stone harvested locally
Design
Chiaki > Making a piece of beautiful textile which touches people's hearts can only happen in an environment where we can all put our thoughts, work and efforts together. In our whole site, architecture has been meticulously designed to align the processes of making and living – each field, landscape and every corner of the space is effectively planned.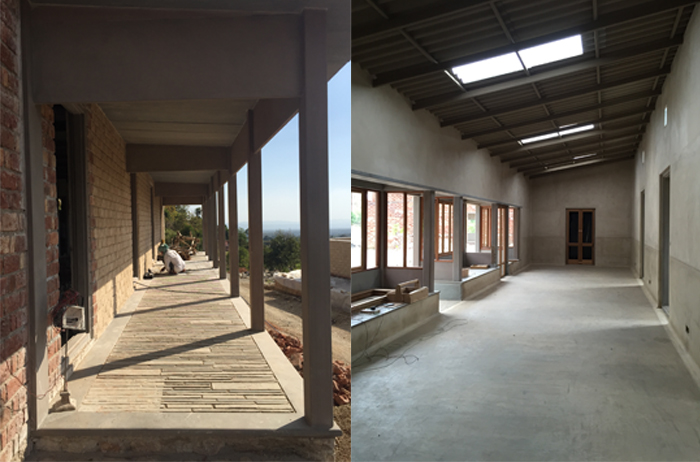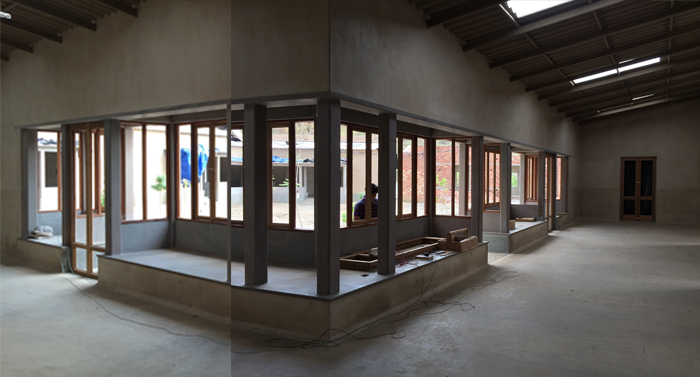 Above: images | studio interiors
Bijoy > The architecture of this complex is made from brick, lime and stone harvested locally, built in consideration to their intuitive relationships. The materials used are local and there is an economy to them. There is also the manpower there that already knows the technology so there is no learning curve involved. There was no need to teach them a new technique, because they had a physical knowledge about how to deal with building conditions locally.
The fixtures used in the facility are very simple and straightforward, nothing special about them. I think for me what I enjoy most here is the spatial intimacy of the project.
References
Bijoy > Much was learned through observing the surrounding landscape, seeing how people were building and working with common sets of materials that you could find in abundance in that region. The structure was made more from what the terrain is and how the topology was set; so in some ways it guided us in terms of how one has to occupy and address the land. Of course, we had to take care of water conditions – for example, during the rainy season, it comes down the mountains.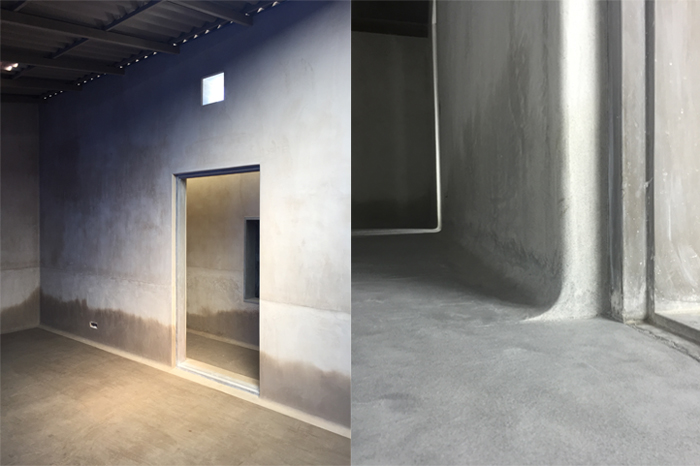 So really the form is more from local observations, ground conditions and the manpower that was building it. I was inspired by everyday architecture that one finds in the length and breadth of this country, quite frankly. – Bijoy Jain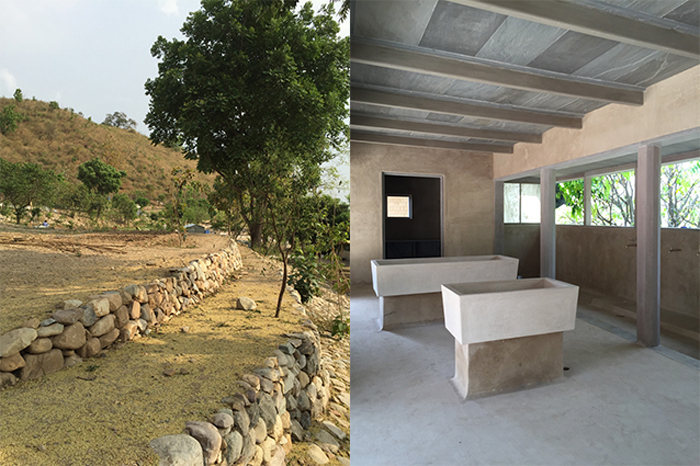 Above: images | studio interior and exterior
Challenges and solutions
Chiaki > Our budget has always been limited since our work, being slow hand work, is not to produce big profits.
Bijoy > The facility is closer to Rishikesh than Dehradun, which means we are negotiating extreme climatic conditions – very cold winters, extremely hot summers, and anything that comes in between. The monsoons, for example, are very small but they bring very strong rain and hail. The challenge has been to understand the programme and build a place that could sustain the weavers, considering all sorts of climatic fluctuations. 
Consequently, the facility is a space that looks internally into a sort of courtyard. It serves as a workshop as well as a kind of container within which there is an open void space in the middle – where a lot of the weaving and other activities can take place outside in good weather. During the monsoon, the weavers can stay in. But the idea is that this facility has the ability to contract and expand depending on seasonal weather changes. It allows you to work outside when you can and then retreat back indoors on days when there is more rain or a great amount of sun. Fundamentally, it's a courtyard plan.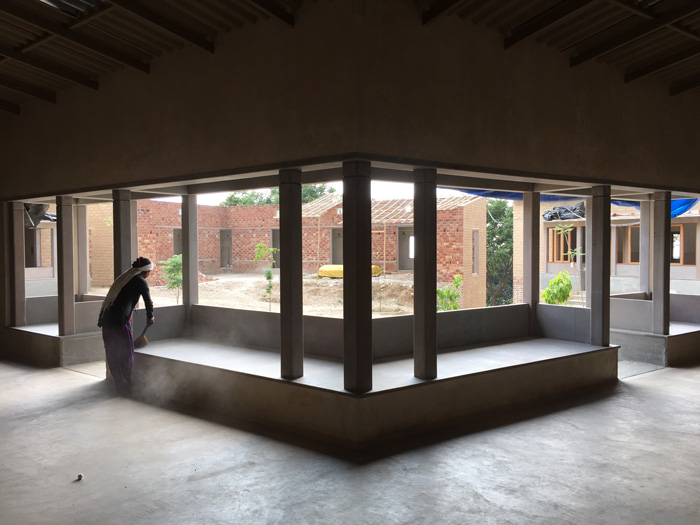 Above: image | courtyard plan, looking inwards
Long term
Chiaki > We have been working with weavers for almost three decades in India. It has been wonderful to be able to continue doing business in hand work for such a long time. We feel the time has come to share something from all our experiences – not only through creating textiles, but now through this workshop. Our hope is to contribute to the welfare of people, locally and around the world, through the practice of hand work and the practice of living in harmony with nature.
I want the inhabitants of the facility to feel happy and free to pursue their work in a space that is well contained. – Bijoy Jain