Himanshu's soft spoken character belies his extensive background and contributions to design and craft. As a partner in 11.11 / eleven eleven, Korra.in and consultant to large denim brands, he works with a sensitivity that transcends both mass and niche markets. 
The beginning > NIFT's former Director, Villoo Mirza, was a phenomenal lady who brought in people from everywhere to teach us. Many of our classes taught us how to think: we were encouraged to build a sort of fantasy world. The professors who taught us were architects and artists, never fashion designers.
On my first day at NIFT, Gandhinagar in 1998, my professor – an artist named Walter D'Souza – walked in and asked the question: 'What are we doing here?' He was asking us to look deep inside to understand what we want. When you're 19, you're not naturally thinking like that. Through his course, he never drew anything or showed us techniques. He talked to us, and would ask, 'What do you see?' after which he would share what he saw. His teaching principle was that if you aren't seeing right, you can't draw right.
This was my real education. Before that, I didn't relate to books and just about managed to get through school. Although I was more inclined toward product design or architecture, my marks didn't qualify. NIFT didn't have a minimum score – I applied without much research, passed their entrance exam, and ended up in fashion school.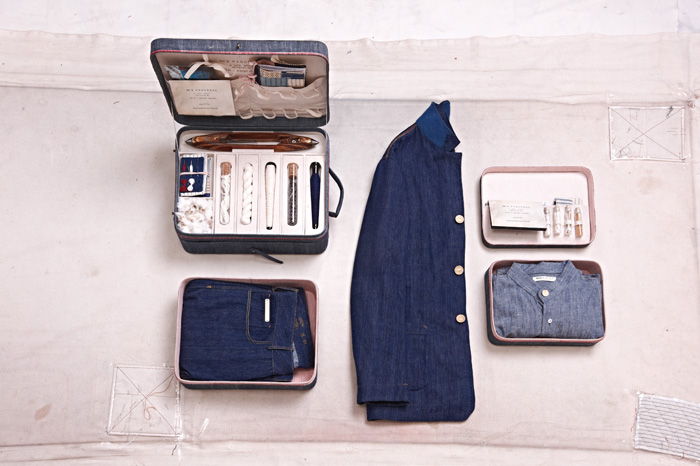 Above: image | 100% handmade route case with khadi denim, worker jacket and chambray shirt
A nuanced perspective > Our campus was a building originally designed for a laboratory, granted by the Government to NIFT. It's not that fashion needs a particular structure but it was a bit surreal that there were washbasins every few meters – indicative of how nascent investment in fashion was at the time. Still, it was a beautifully designed building – the light was perfect. I would participate in competitions at NIFT and won a few which took me to Japan and Korea. One of the prizes took me to Milan for a Masters degree in Fashion Design, through part scholarship at Domus Academy.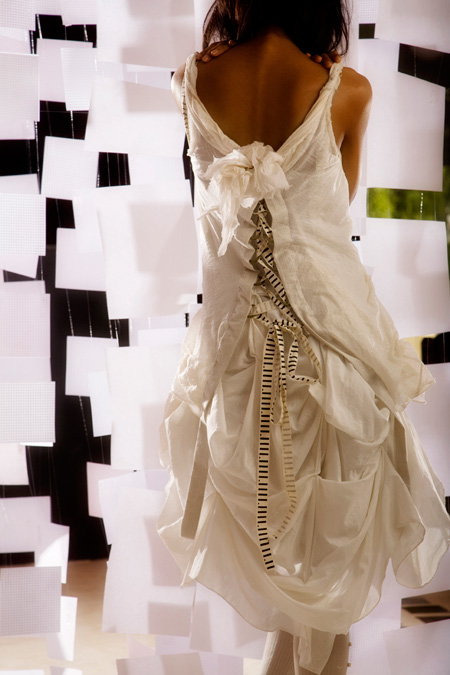 Above:  11.11's launch collection  in S/S 2009 – Japanese dress with signature tape detail.  Image | Manav Parhawk
I did my thesis with Nokia in 2002, while the company was at its peak. Nokia was researching how to connect lifestyle and fashion with the mobile phone, an everyday essential. Around this time, fashion was starting to penetrate product design – in furniture, sportswear and other categories – and there was a move toward analysing colours, patterns and textures to fit a certain lifestyle. My thesis was all about how fashion could shape and drive Nokia's brand strategy. 
In those four months of working on my thesis, I interacted with architects, product designers and interaction designers. I met Renato Montagner, an architect based out of Venato, Italy, with amazing perspective on design and fashion. He saw my thesis work, and about four months after I graduated, asked if I was interested in collaborating on a project.
Renato was working with various fashion brands at the time on exhibition space design, retail space design and he was art director for Dainese – one of the best brands for motorcycle and mountain biking gear. I joined him as a consultant and formed my company CellDSGN in Milan in 2003 so I could work with him and others. I became involved as a consultant fashion designer in Renato's studio Changed Design and worked on a collection for Dainese where I learned about garment engineering – how it can facilitate functionality or how a jacket needs to be fitted to one's form – and I could see myself happily doing this for years to come.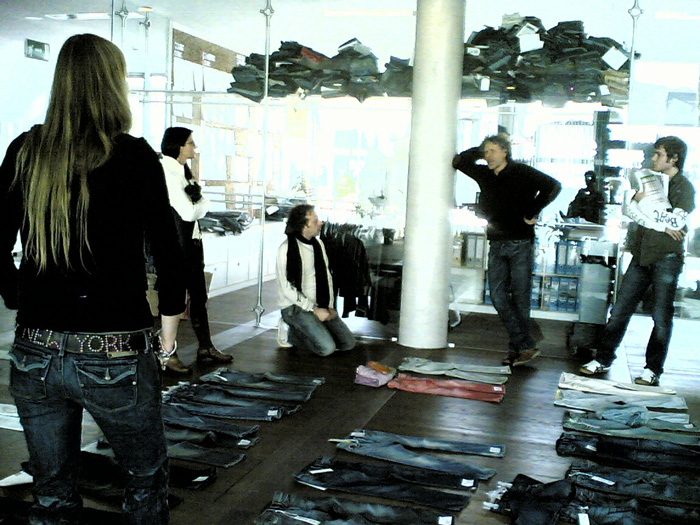 Above: Diesel Kids headquarters, reviewing S/S 2005 with Renzo Rosso and Jermano Feraro
One of our initial projects together was for 55 DSL, a brand under the art direction of Andrea Rosso, the son of Renzo Rosso (owner of Diesel).  Andrea was impressed with the outcome and aside from being colleagues we became very good friends, and travelled to India together on many more projects. I entered Diesel's world, and worked with Andrea's father, Renzo Rosso, for almost five years before he convinced me to move my base to New Delhi in 2006.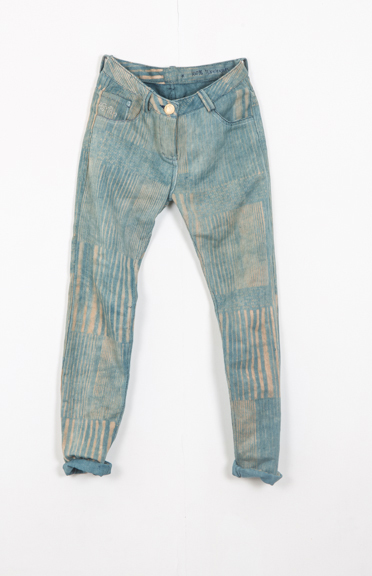 Above: 100% handmade khadi denim in Staccato block print
Our design studio was in Hauz Khas, which today is our retail store, The Grey Garden. We used to work on capsule collections for the Diesel kids and accessories line – from R&D and design development to shipping out final production.
Diesel was already producing almost half a million pieces in India through their buying house, but Renzo knew India had more to offer than backend production.
CellDSGN soon began consulting for Levis, working with their Marketing Director, Shyam Sukhramani. Shyam was quick in his decision making: he visited once and appointed us to creatively direct for Red Loop India. I am now a partner with Shyam in Korra.in.
In 2009, I launched 11.11 / eleven eleven at Delhi Fashion Week with a S/S 2009 collection. Mia Morikawa joined the brand a year later in 2010. She is half Japanese and half American, with a background in Fine Art.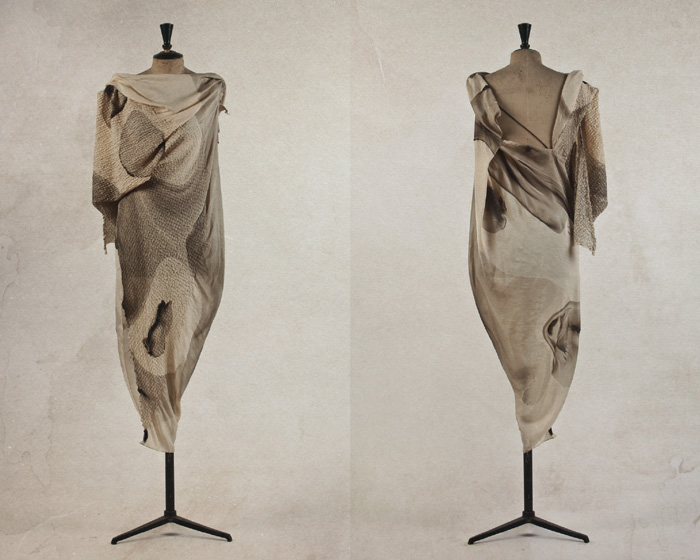 Above: A/W 2012 Kaya dress – bhandani work and marbled silk

Craft in context > The people I've worked with – Renato, Andrea and Renzo – have deeply influenced the way I work. Another person is Giuseppe Menta, a printmaker based in Como, Italy. He comes from the same time and school of thought as Giorgio Armani and Gianni Versace; in fact, he used to send his print artworks to them regularly. With Giuseppe I worked on a collection of textiles based out of India. He was 65 years old then with a mind like a kid when it came to paint and design: very open to new ideas even though he had so much experience. The textile collection we collaborated on was shown at Premier Vision and to various design houses like Missoni, Josep Font and Armani.
The first thing I introduced him (Giuseppe) to was cotton knitted khadi fabric, which he loved. We showed it to many designers, and while they loved it too, the handspun, uneven nature of khadi did not pass quality checks, and so things didn't end positively. Still, working with Giuseppe was a beautiful experience, and furthered my exploration of Indian techniques.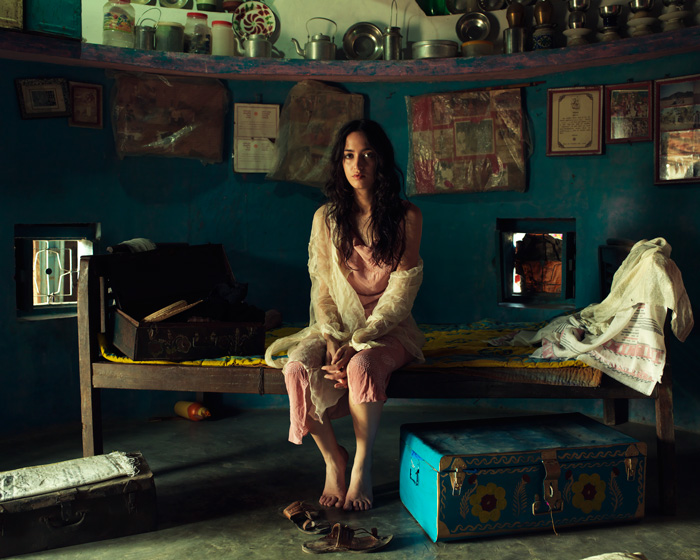 Above: S/S 2013 Tamara Moss in the silk bandhani Paige dress. Image | Bharat Sikka
It was then that I realised that working with Indian craftsmen was more meaningful than the industrial side. I also saw the potential in taking Indian craft to the outside world at this level. Because the problem wasn't that Armani didn't like it – he loved it, but the system needed a wider understanding of quality.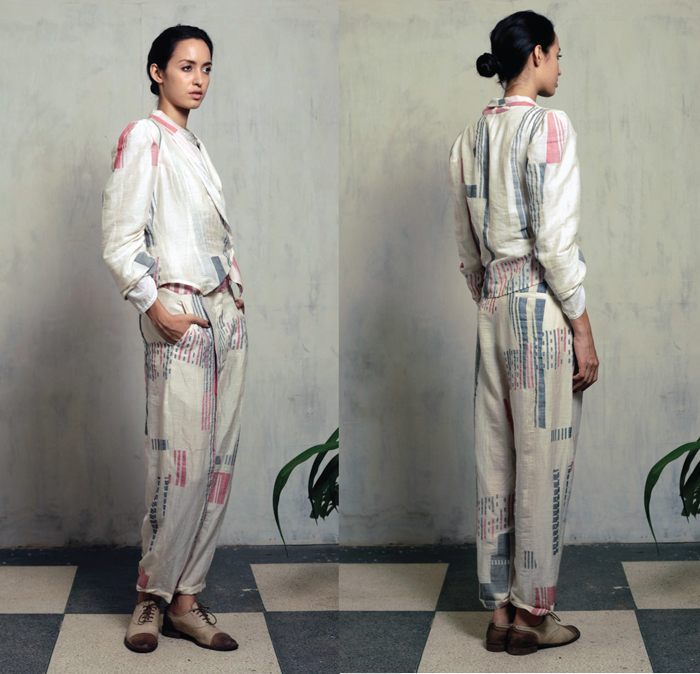 Above: S/S 2013 Jamdani suit

Pure intentions > My question has always been, "Why is 'Made In Italy' such a big deal while 'Made in India' isn't?" I have since realised that it's the passion of the maker which gives soul to the product. Industrially produced fashion lacks soul in India: there has never been a dialogue between the consumer and maker. The consumer needs to respect how things are made and craftsmen need to understand what they're doing and for whom it's being done. That exposure and link is critical.
The essence of my design philosophy is that you try to go deeper and keep working until you are satisfied. I have never been blindly impressed by European luxury – it's fairly objective. You can see products that are finished well and those that are not.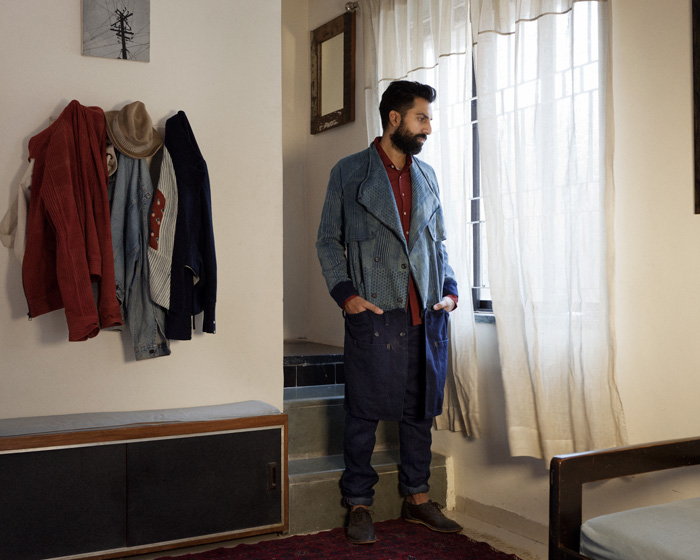 Above: A/W 2013 Kunal Lodhia in khadi denim trench.   Image | Nishant Shukla
At 11.11 / eleven eleven we've been working with khadi for many years and use 100% natural dyes. I prefer to use the term "homespun" as most of the khadi fabric is spun on the "amber charkha" and produced in cottage industries in one's own space. As a brand, we're working towards a part of our line being 100% handmade – the purest form where we don't dilute or compromise on anything – Mia calls it 'seed to stitch'.
Above: S/S 2014 Mila dress in Rothko block print.
Then there's the main 11.11 / eleven eleven men and womenswear lines, where we innovate the most. We play with and combine different crafts like khadi, bandhani and block print. Lastly, there's 11.11 / eleven eleven essentials, all khadi and natural dyed as well, which is not based on season, but includes clothes one would wear every day.
Refining energy & effort > CellDSGN as a company has consulted for various brands in the last 13 years, but about three years ago, 11.11 / eleven eleven became the main focus. We do consultancy work only if it's an interesting project to collaborate on. For example, we recently art directed an event for Hindustan Unilever. Their global CEO, Paul Polman, wanted to share his concern for global warming with various other industries through an event designed by us at Hindustan Unilever's headquarters in Mumbai.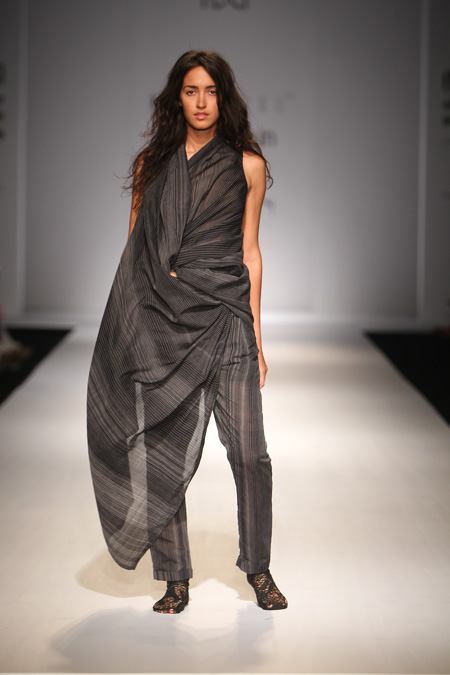 Above: A/W 2015 Sarepant (overall) in Chanderi fabric.  Image | Amazon India Fashion Week
We conceptualised a fashion show based on sustainable clothing and designed it all from the invite to complete space design, involving Indian artisans and designers, and using 100% sustainable materials. This kind of project is interesting and makes sense for the direction the brand is heading in. 
For me, it's a question of applying the knowledge I've gathered in my 15 years of experience. It's an accumulation that we now use in our everyday practises.
One of our biggest achievements has been the all-over bandhani collection that we launched in 2012 which took two years of working with bandhani artisans to make it technically achievable. For us, working with craft involves building a relationship which takes time to develop.
100% handmade kala cotton khadi denim by 11.11 / eleven eleven is another achievement in the past two years. Kala cotton khadi denim is by default organic cotton and is dyed in a 25-year-old fermented indigo vat.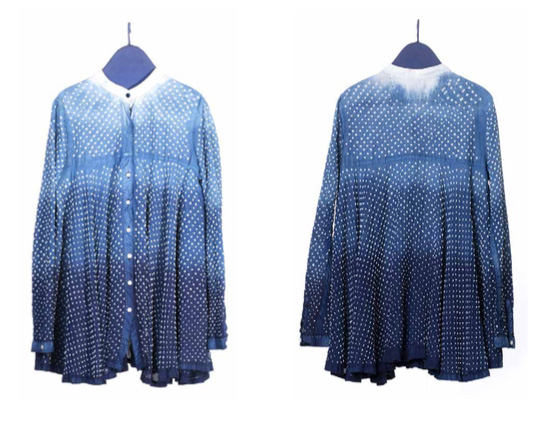 Above: S/S 2016 Keidn in 200 count khadi with allover bhandani, dyed in natural indigo
Retail objectives > Indian retail is based largely on a consignment model and there are hardly 40 stores which cater to Western wear. When we launched in 2009 at Delhi Fashion Week, Tina Tahiliani was the first to place an order. She bought the entire collection outright for her Mumbai-based store, Ensemble. It was fabulous for us because she encouraged what she liked, and saw that it was something the country needs.
In 2015, we were able to find the right partners for retail outside India, who understand their market and are able to place us in the right way. We have an existing retail collaboration in Japan with Henry Cuir, and are developing an opportunity in New York, which will open more doors for us outside India.
Henry Cuir, an Italian brand, has been retailing in Japan for about 15 years. Along with Péro, 11.11 / eleven eleven has a permanent space at their flagship store in Tokyo on Aoyama Street. 100% handmade by 11.11 / eleven eleven is the main line retailing khadi denim.