In a few short years, Loom to Luxury has become recognized for exquisitely crafted handloom textiles. In 2013 – his first year of business and with the support of Nest (one of our content partners for Karigar), Loom to Luxury showed its collection of textiles at Première Vision in Paris. In the seasons that followed, they produced for brands including Maiyet and The Row. What follows is an interview with Loom to Luxury founder, Jitendra Kumar – tenaciously pursuing his ambitions: bettering weavers conditions of time, quality and management.
The beginning > I was born in a small, rural town: Dehri-on-Sone in Bihar, India.  Like all of my friends, I was influenced by Bollywood. However, unlike most of my friends who chose the path of engineers or doctors, I decided to follow my passion and go to school for fashion design (National Institute of Fashion Design – Chandigarh). I applied to a fashion design program, but during the interview process, changed my mind. Textile design appeared more interesting to me as fabrics are the foundation of fashion. A childhood visit to Varanasi had sparked my interest in traditional handloom craft, leaving me fascinated by the huge weaving community hidden within the gullys (lanes) of the old city. Upon pursuing my education, I decided to return to Varanasi during my summer vacation to learn more about the craft hands-on.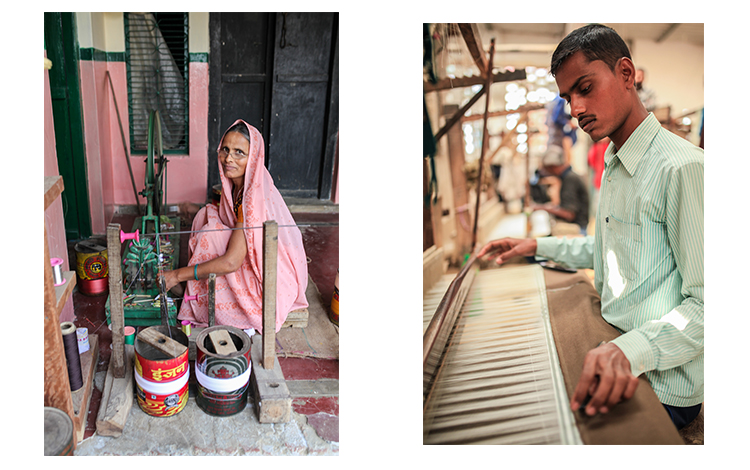 After 20 days struggling to find someone to teach me (most of them were skeptical and wanted to protect their designs), I had a fateful meeting with a young weaver who agreed to take me in with his family. I learned not only about the techniques of weaving, but was also witness to the cultural and social situations facing these craftsman, and knew that someday I would return to help their plight.
After graduating, I began working in corporate marketing, and by conventional standards I was successful. But one night in December 2009, realizing I wasn't fulfilling my dream, I decided to quit. I packed my bags and returned to Varanasi.
My friends and family did not understand my vision. At the time, it was the hardest decision I have ever made, but it was the most significant shift in my life and the most important step in becoming who I am today.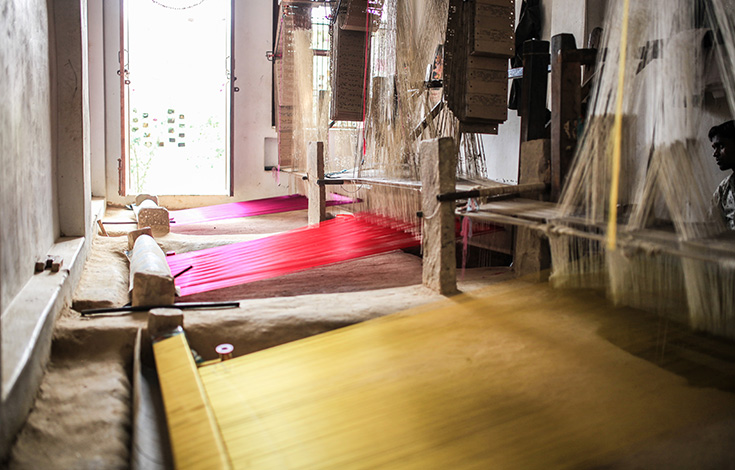 I took up an opportunity to work with an NGO in Varanasi as a Production Manager. Six months later I began to lead a project that was more connected to the weavers on a personal level. I realized that the craft sector was facing three major challenges – time, quality, management – and that something more was needed in order to preserve this craft into the future.
When the project ended, I chose to carry on the project as a social enterprise, acknowledging that the weavers were not in need of charity, but were, at the core, in need of work. They are anything but unskilled, but in need of marketing and administrative support. In 2013, I founded Loom to Luxury on that mission.
People > Mohammad Samim Ansari and his family – Samim and his family were the first to open their door to me in Varanasi and the time I spent with them has influenced my entire career. From them I learned not only about jacquard weaving, but about the intricacies of a weaver's life and the challenges that come with it. Samim is now a member of my staff and continues to influence my work.
Inge Rieck – Inge was a mentor and a surrogate mother for me when I first began working in Varanasi. Inge is German with over 30 years of experience in production and has a huge heart. She helped me to navigate the challenges of handloom production, validated my mission and supported me greatly on my path to help make a better life for the weavers. She was and still continues to be a source of strength and inspiration for me.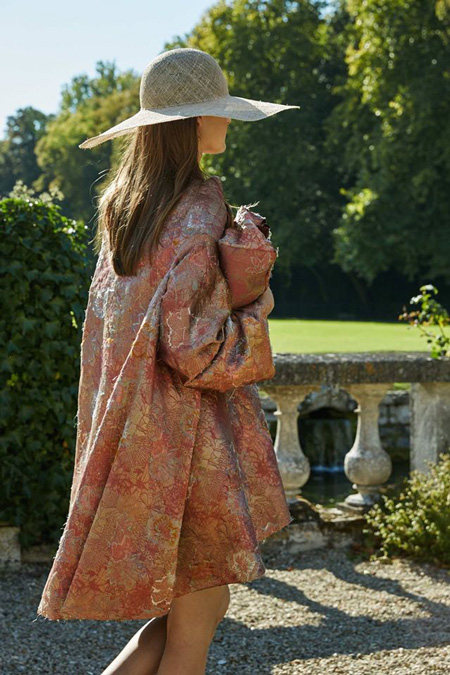 Above: image | The Row S/S 2016
I am very inspired by the work of Hermès and really respect their mission to preserve and hold up the authenticity of craftsmanship. They are renowned for their impeccable quality and continuous innovation, which is something I always try to emulate in my work. As many entrepreneurs will tell you, there is not a lot of life outside work in the first few years of starting a business. I am a very social person, however, these days my work is my priority. On the other hand, I love to travel and meet new people and my work has afforded me the luxury of combining these passions.
All of my experiences tend to end up influencing my work in some way – from inspiring a design or meeting someone who shares an interesting idea for improving my business.
Loom to Luxury > Our fabrics really tell the story themselves. The jacquard loom is the most versatile loom in the world and through our designs, we continuously strive to push the boundaries of that versatility. While the story is always the amazing craft of handloom weaving, each season I have a chance to tell that story in a new way using colour, design and technique. My business has two types of customers: designers who purchase running fabric to create their own garments and individual consumers who are buying saris, dupattas, stoles and other finished products.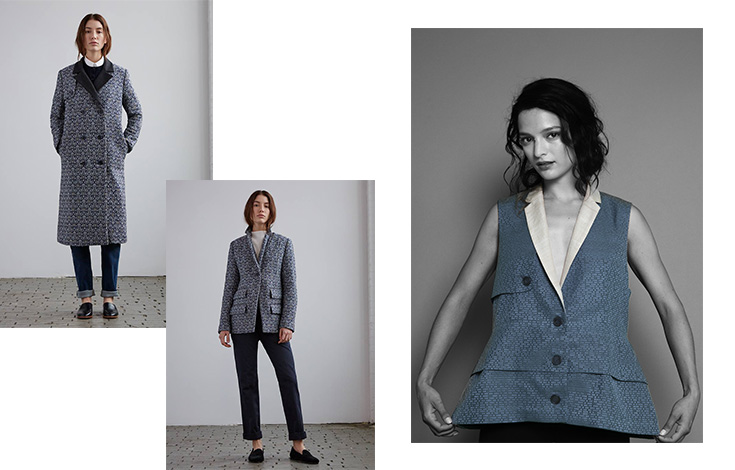 Above: images | Maiyet, Shipper Resort 2016
The designers we work with are in the high-end fashion market internationally from Europe to the US, Australia and India. When designers come to Loom to Luxury, they are looking for a very special fabric for their collection. Quality for this customer is of the utmost importance, followed closely by design, so I have to make sure my fabrics are in-line with current trends but are also unique and stand out from other fabrics found in the mass market. We often weave custom fabrics for designers, so I have to be very innovative and creative in how to best translate a designer's vision into a fabric that works practically into their final garment.
It is a pity that an understanding of handloom is less widespread. Customers often reject a piece for what seems to be an imperfection. These "imperfections" are what make each handmade piece unique. The whole paradigm needs changing. 
Skill building > I work with a fixed stipend for my weavers as a way to prevent their brain drain into manual labour. Weavers, as I keep saying, are a highly skilled work force; what happens when you have unsteady and meagre income as a weaver, is you give it up for unskilled, paid labour under government schemes (such as the NREGA – the Mahatma Gandhi National Rural Employment Guarantee Scheme). Or you fall prey to loan sharks and incur debts your family can't pay off. Weaving as a profession doesn't cater to the concept of a monthly fixed income but I've calculated a minimum (Rs. 7000) they need and worked out a system to keep them occupied for the entire month.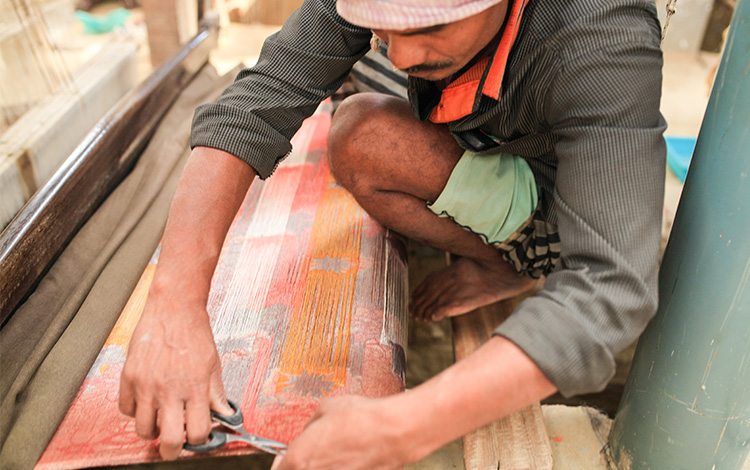 I also believe education is very important, both access to schooling as well as a weaving school for children from the community. I am happy to fund both myself, so that is also something we engage in. The intention is to give children access to local Government and private English medium schools, but classes in weaving, button making, etc as well, so that they may be equipped with what I believe are essential skills for the craft community. This is in addition to the work at the facility with the 52 weavers I have on board. 
With the support of New York based non-proft Nest, we are building a modern weaving facility in Varanasi. Designed by award-winning London based architect David Adjaye, it will address three goals: improving weaver's livelihoods while fostering an atmosphere of solidarity, providing a resource for the community as a whole (paying close attention to the empowerment of women, provision of social services and clean water). Lastly, creating a safe, healthy work environment which addresses production issues that currently inhibit growth of the business.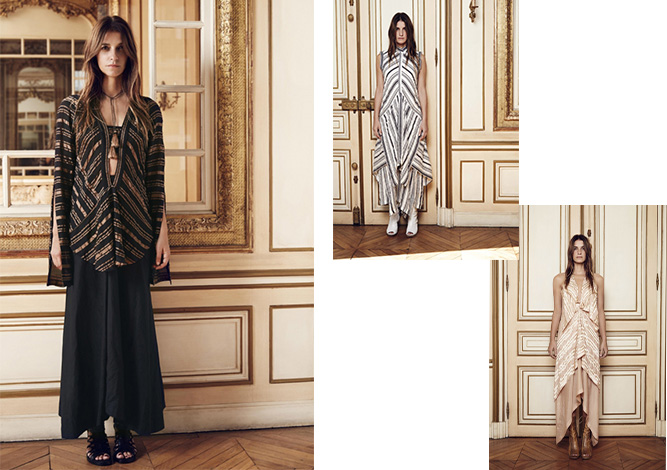 Above: images | Kitx
References > Pinterest  Vogue.com  WWD   Moda UK 
Textiles books, especially those by Rahul Jain and Rta Kapur Chisti. I love all Bollywood movies, actors like Kishore Kumar and Jagit Singh. I also use conversations around Bollywood to show young people from weaving communities the impact of their community's work. I point out, for example, that Deepika Padukone's costumes in Bajirao Mastani are frequently benarasi, i.e from their backyards. Their reaction is one of surprise. The weavers have been marginalised in our aspirational, wealth economies and I hope to help young people reclaim their sense of self-worth and direction, through a revival of this grassroots occupation. I am able to do this with them because I've done this for myself.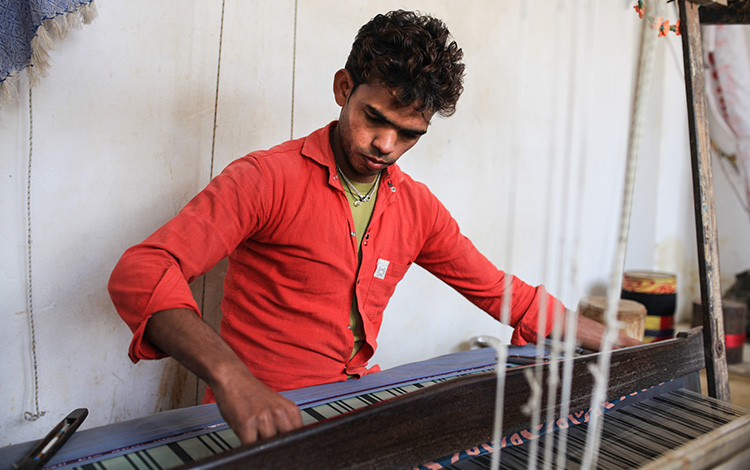 Work history >
Loom to Luxury: Founder and Director, Varanasi. Jan 2013 – present
Weavers Foundation: Project Leader, Varanasi. Jan 2010 – Dec 2012
National Institute of Fashion Design: Corporate Textile Designer, Chandigarh. Aug 2008 – Jan 2010
Read more about Loom to Luxury's journey from Varanasi to Paris with Nest here.