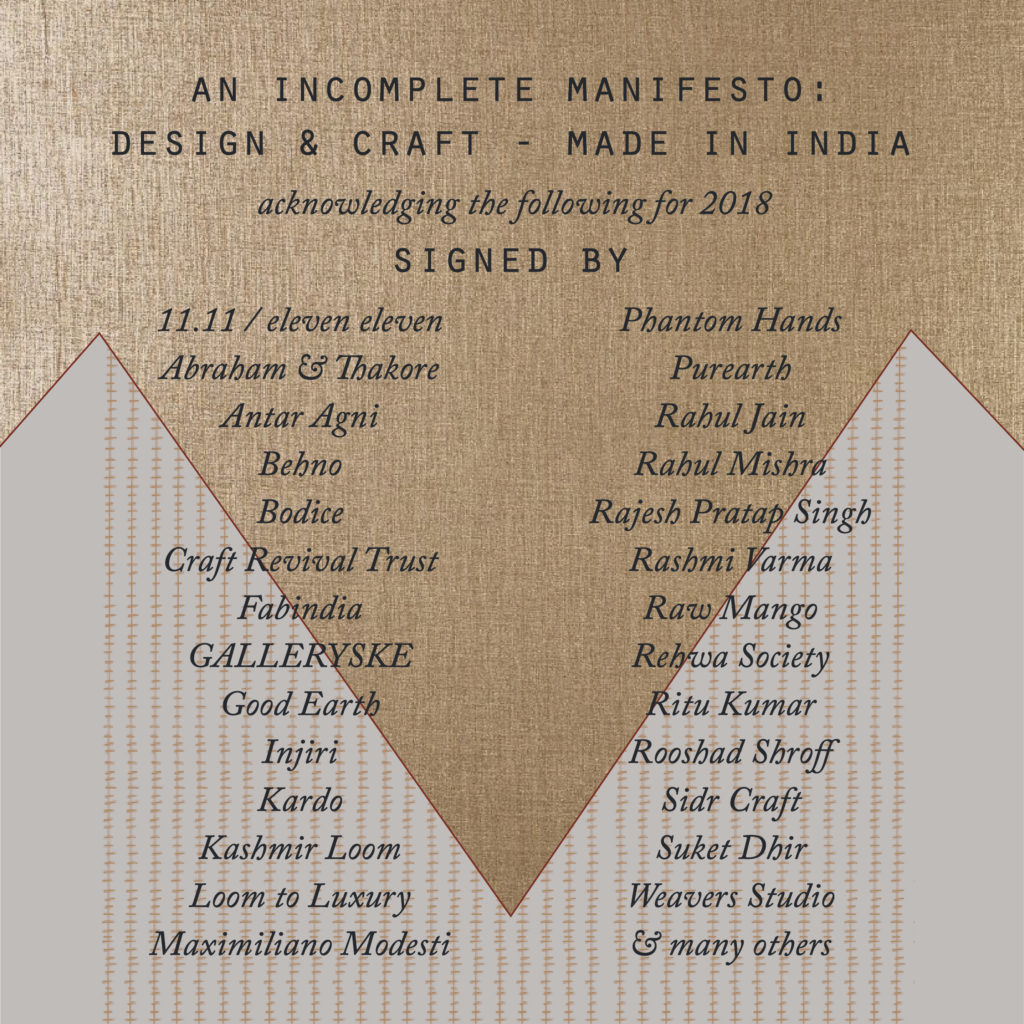 We first released this Manifesto in Dec 2016, it spoke to 11 points we felt were important to address for 'textiles and garments' made in India. Over the years, many of you have signed it in acknowledgement, and we decided to revisit the list this year with a slightly broader focus addressing 'design and craft' made in India. The 11 original points have largely stayed the same, and 3 new ones have been added on. Its purpose is to serve as a reminder for areas of focus and importance as design in India continues its global ascent. The next few years are important for our communities and require a keener attention to housekeeping, especially as a collective.
We wish the Manifesto had shortened over the years, but while reading you'll see that many of these points remain relevant. From our end, we are mindful to address 1, 2, 8 and 12 directly with clients and reflect it in our work deliverables. The rest remain active conversations and we look forward to proactively addressing a few of these, especially 8 and 13 this year. Please add your name in the comments if you would like to sign on. Do comment/debate – we are always happy to hear your thoughts. You can download a copy of the Manifesto here.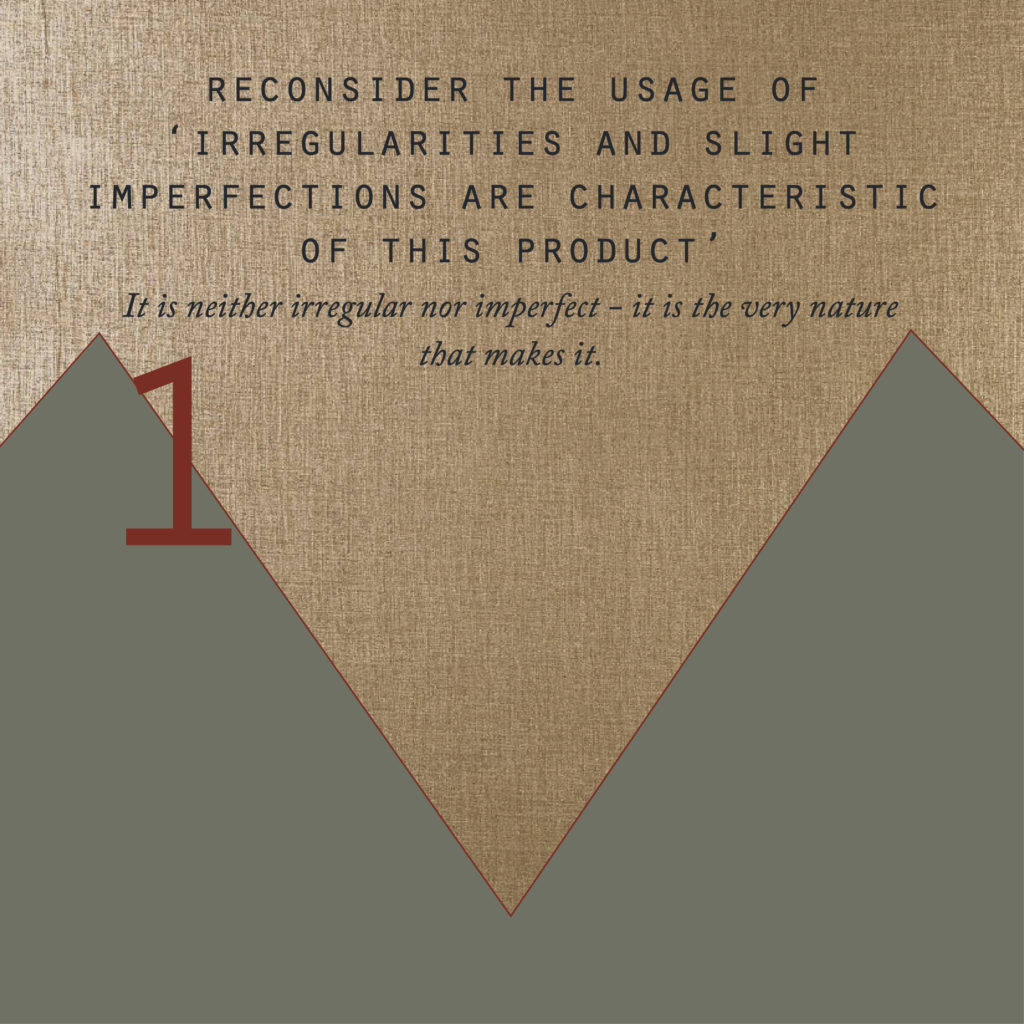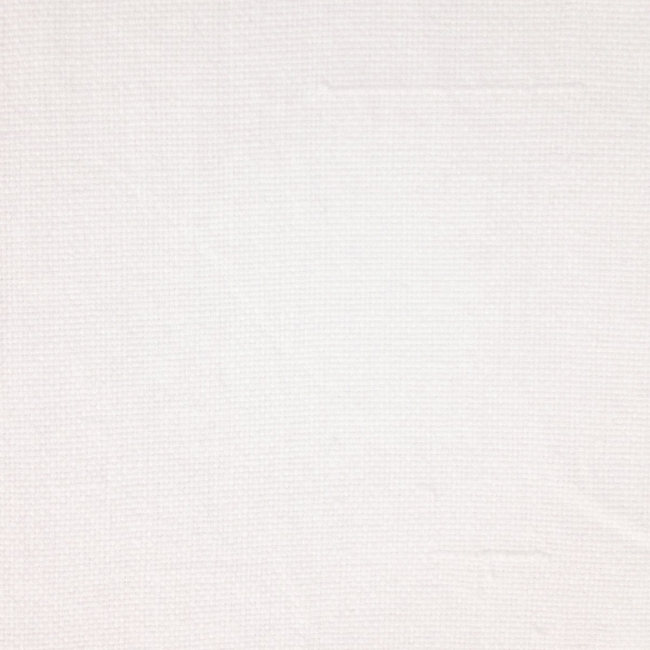 Above: Image |  Khadi slub visible on designer Rashmi Varma's garment

Reconsider the usage of 'Irregularities and slight imperfections are characteristic of this product'. It is neither irregular nor imperfect – it is the very nature that makes it.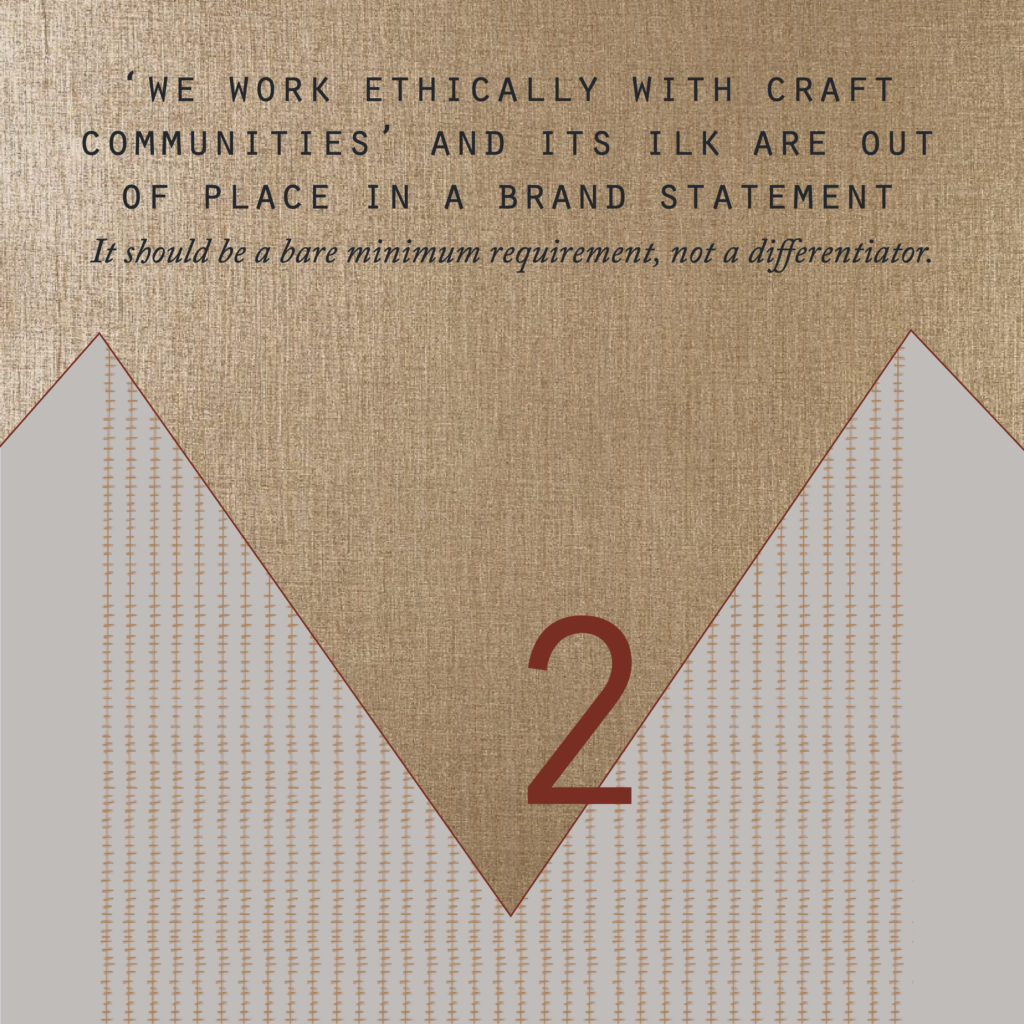 'We work ethically with craft communities' and its ilk are out of place in a brand statement. It should be a bare minimum requirement, not a differentiator.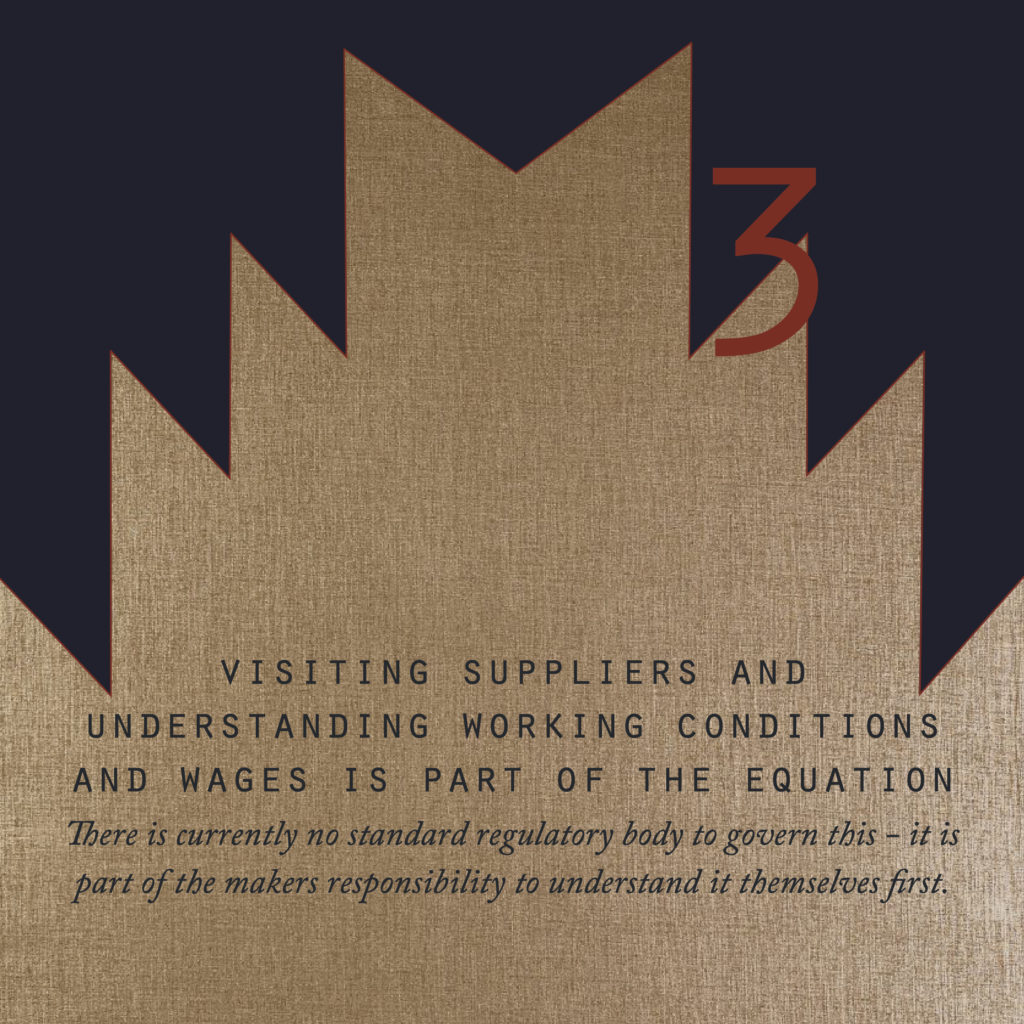 Visiting suppliers and understanding working conditions and wages is part of the equation. There is currently no standard regulatory body to govern this  – it is part of the makers responsibility to understand it themselves first.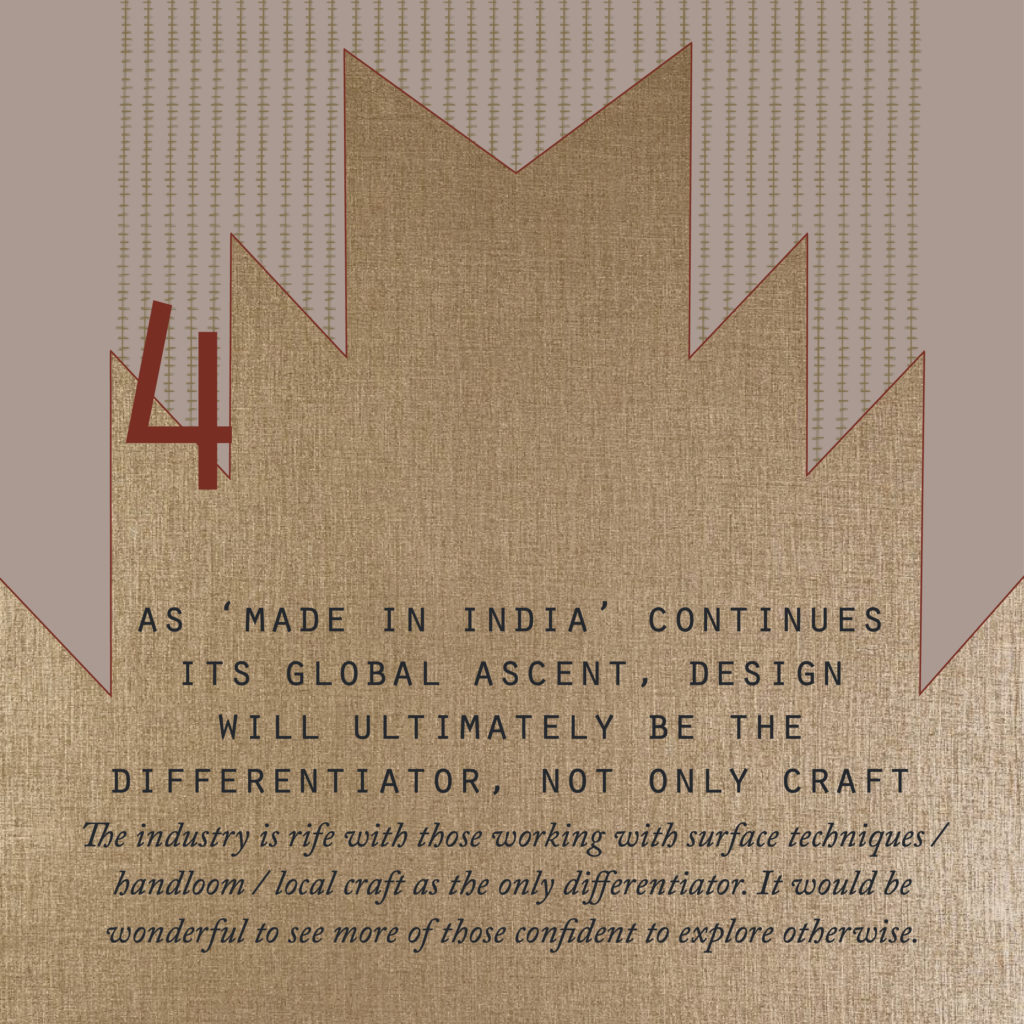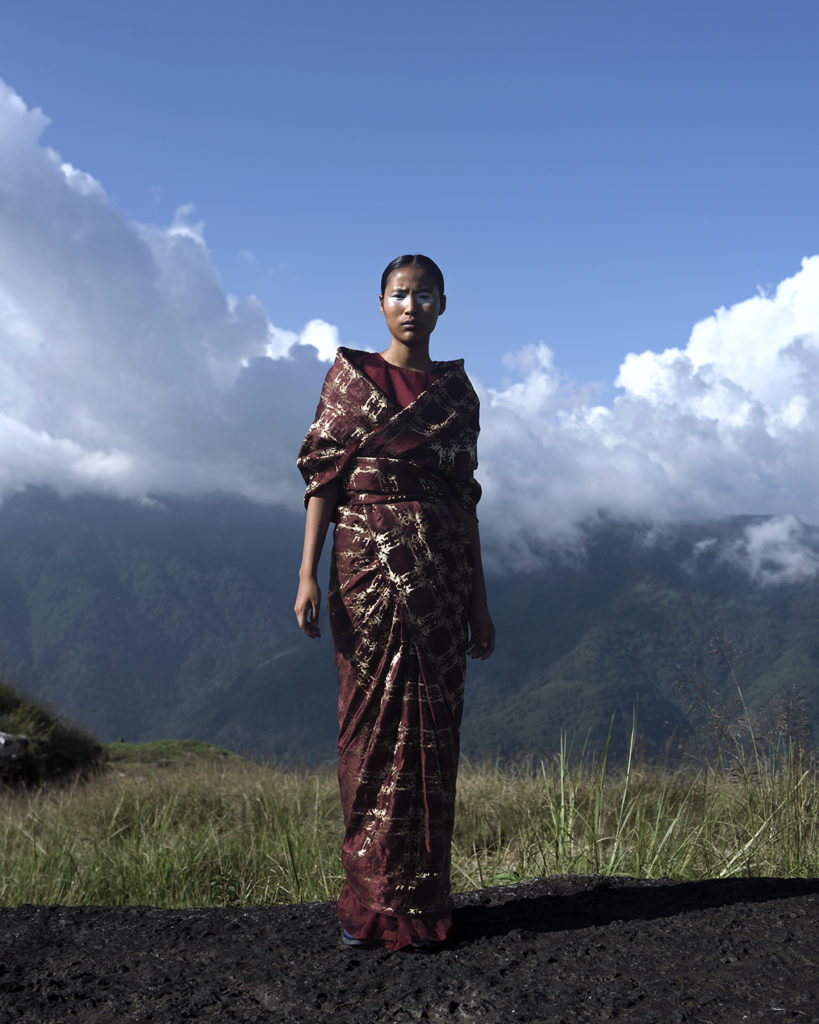 Above: Image | Sanjay Garg A/W 2018 'Cloud People'

 As 'Made in India' continues its global ascent, design will ultimately be the differentiator, not only craft. The industry is rife with those working with surface techniques / handloom / local craft as the only differentiator. It would be wonderful to see more of those confident to explore otherwise.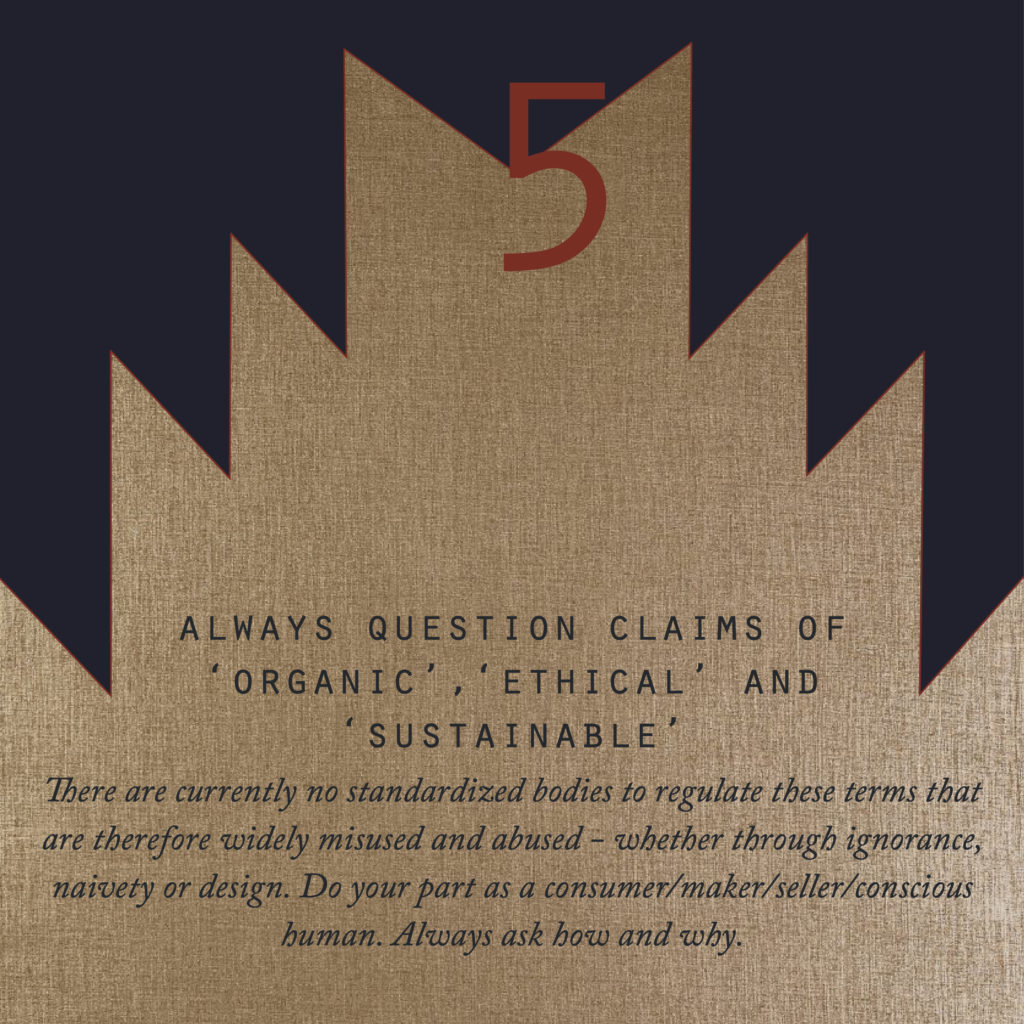 Above: Image |  sequins made from discarded hospital x-rays by Abraham & Thakore for FW 16

Always question claims of  'organic' 'ethical' and  'sustainable'.  There are currently no standardized bodies to regulate these terms that are therefore widely misused and abused – whether through ignorance, naivety or design. Do your part as a consumer/maker/seller/conscious human. Always ask how and why.
Benaras has been the buzzword since Prime Minister Modi pledged to 'revive' the weaving of the region in 2014. There have been multiple media blitzes covering this effort and thankfully a few more investigative pieces sharing that 'revival' has yet to be seen. It's a long process that is a function of time, not talk.
Makers would do well to speak with humility and less ownership about 'revival' and 'innovation'. There are many who have, and are, working in the same space. Collaborate. Keep karigars continuously occupied.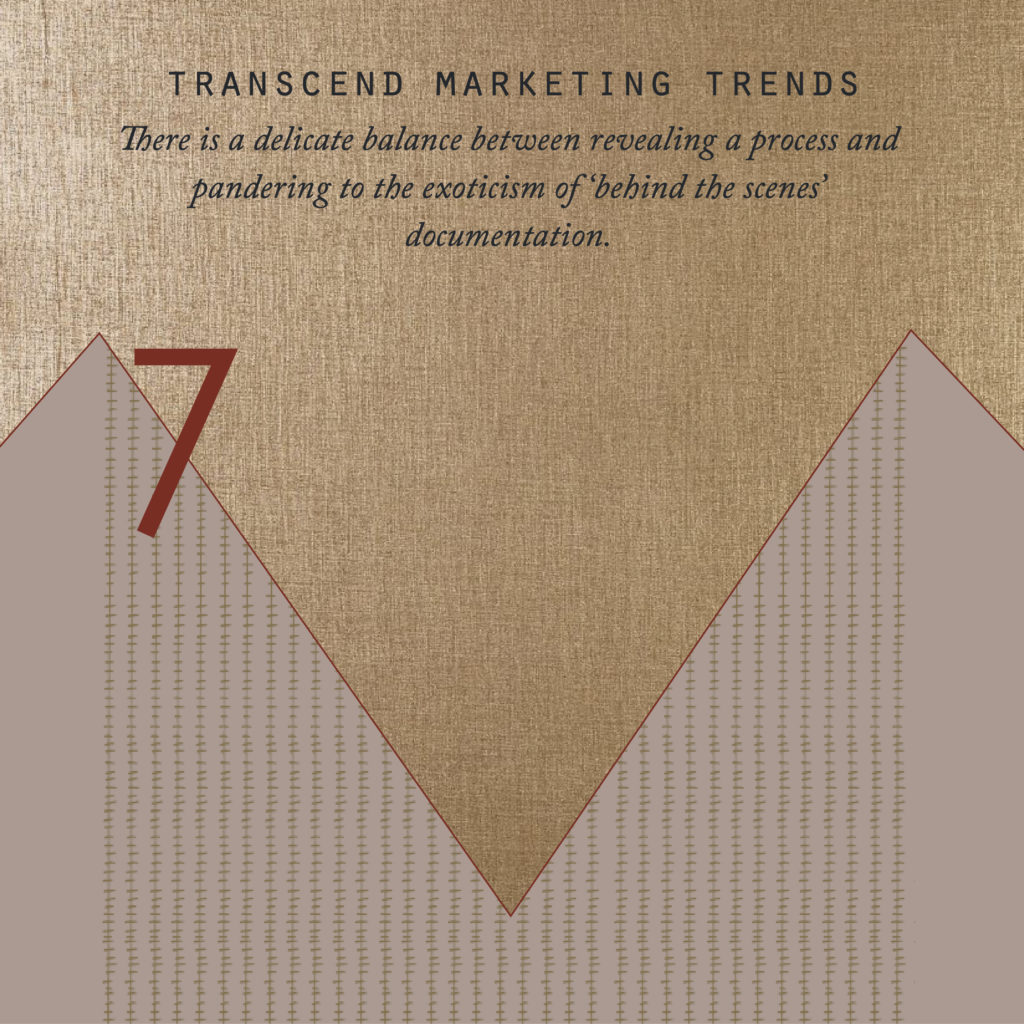 Anita Dongre's NY foray with Grassroots is the perfect example of this: a model kissing an aged karigar. It's not reflective of our culture (it would be the opposite embrace) and reads as patronising. In contrast, Behno's direct portrait photography strikes us as a refreshing take on karigar recognition. Let's see more faces, less hands.
Transcend marketing trends. There is a delicate balance between revealing a process and pandering to the exoticism of 'behind the scenes' documentation.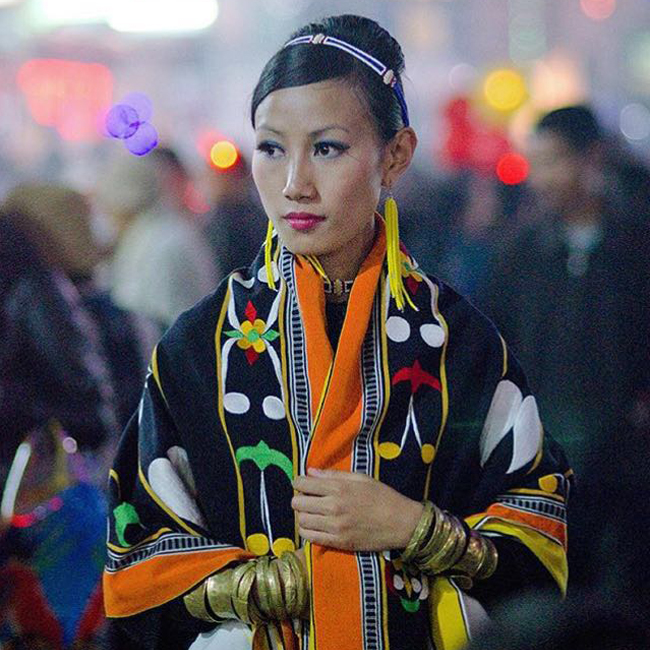 Above: Image | Naga Shawl on Kuvelu Tetseo by Manou of Wearabout

This is an invisible need and something we are keen to address in 2018. Watch this space for more information.
The terms 'Contemporizing craft' and 'Modernizing craft' are misleading. We currently lack the lexicon to accurately describe the developing aesthetic, the above indicates craft has not been modern or contemporary in the past and given its overusage, does not speak to anything specific.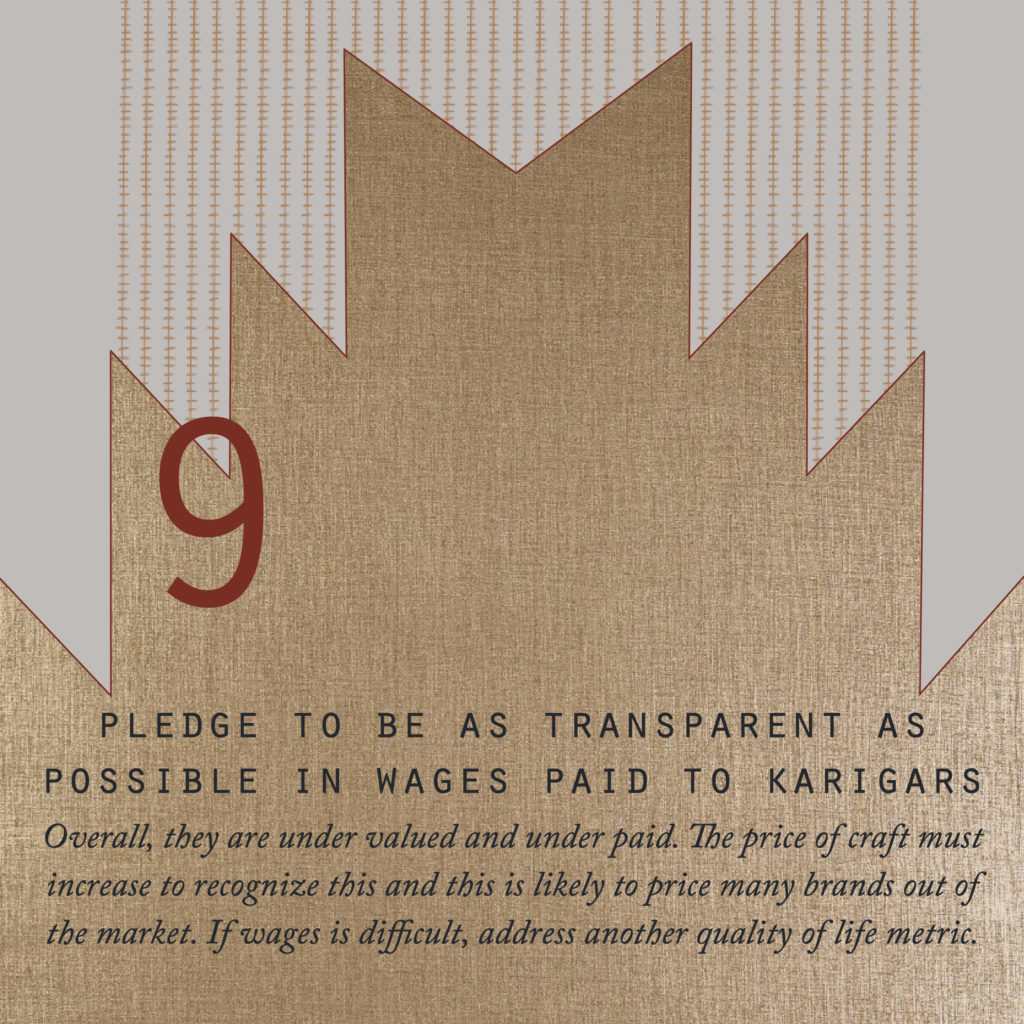 Pledge to be as transparent as possible in wages paid to Karigars. Overall, they are under valued and under paid. The price of craft must increase to recognize this and this is likely to price many brands out of the market. If wages is difficult, address another quality of life metric.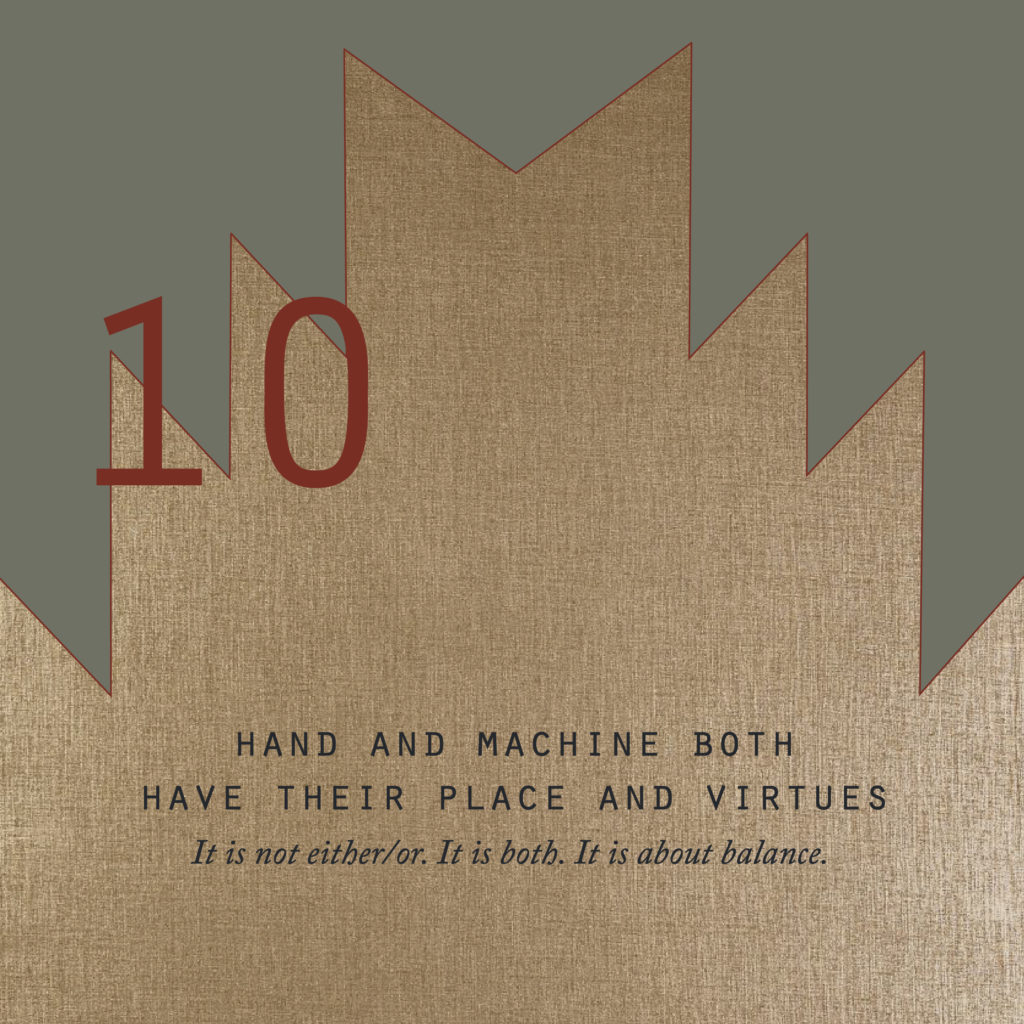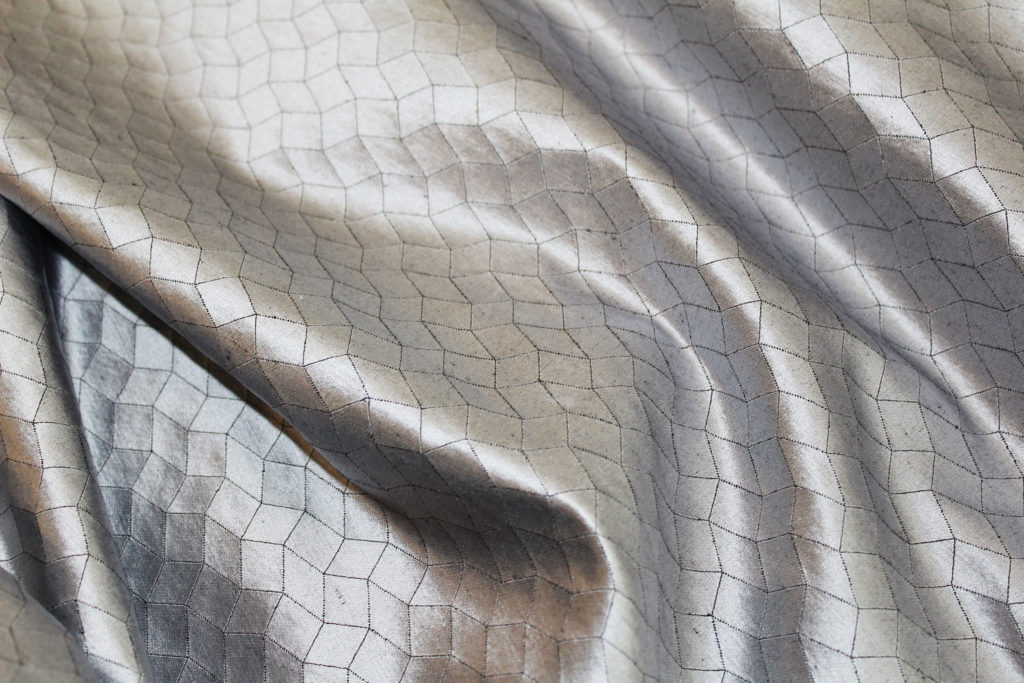 Above: Image | Atmosphere Fabrics 'Chilman' drapery
This point seems to be the most 'resolved' in the Manifesto from when it was first written in 2016. There are less satyagrahas, and there seems to be more of an understanding for each of their strengths. 
Hand and machine both have their place and virtues. It is not either/or. It is both. It is about balance.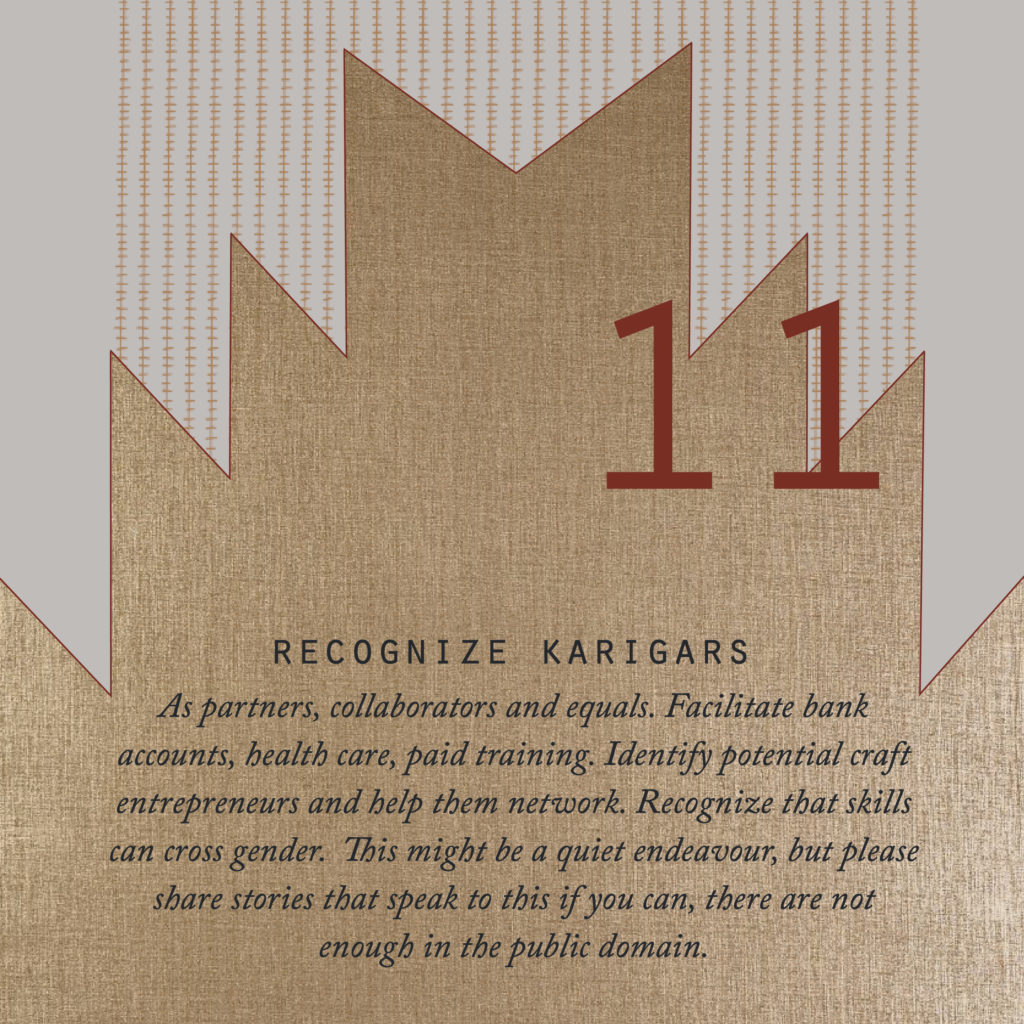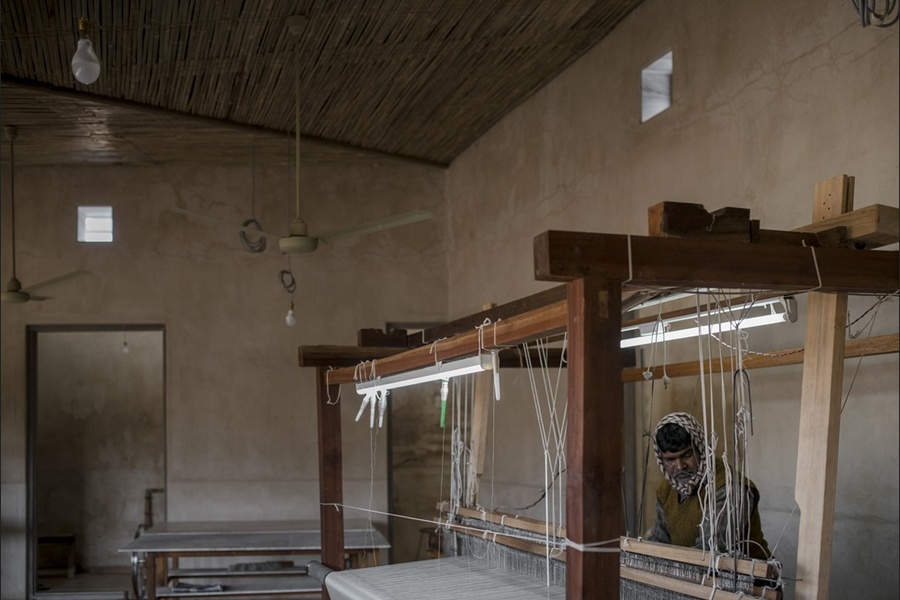 Above: Image | Ganga Maki Textile Studio built by Bijoy Jain

Recognize Karigars. As partners, collaborators and equals. Facilitate bank accounts, health care, paid training.  Identify potential craft entrepreneurs and help them network. Recognize that skills can cross gender. This might be a quiet endeavour, but please share stories that speak to this if you can, there are not enough in the public domain.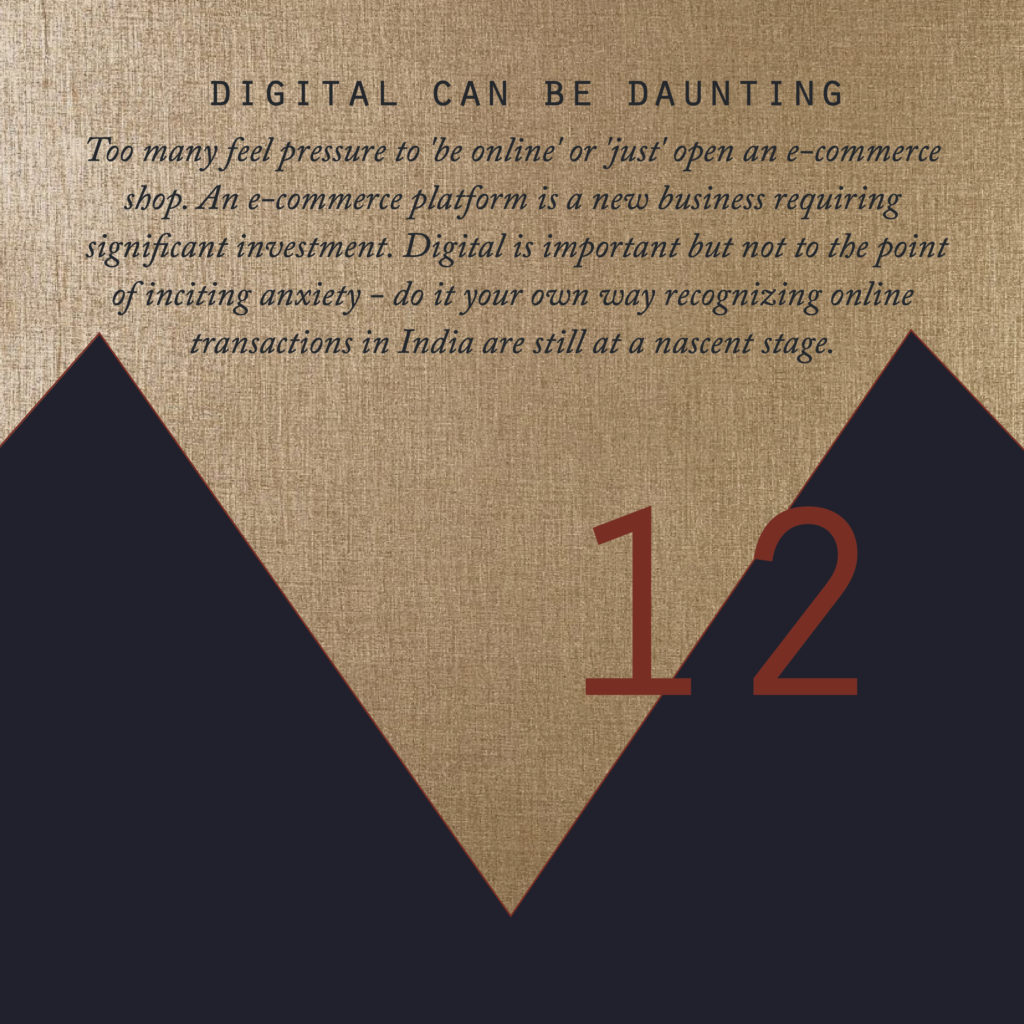 The pressure is unreal, and it's hard to watch brands of all sizes pour money into a new business with high capital expenditure. E-commerce in India still has no profitable shining star, no great examples of gain nor proven models. It's nascent and its ok for you to take your time. 
Digital can be daunting. Too many feel pressure to 'be online' or 'just' open an ecommerce shop. An ecommerce platform is a new business requiring significant investment. Digital is important but not to the point of inciting anxiety – do it your own way recognizing online transactions in India are still at a nascent stage.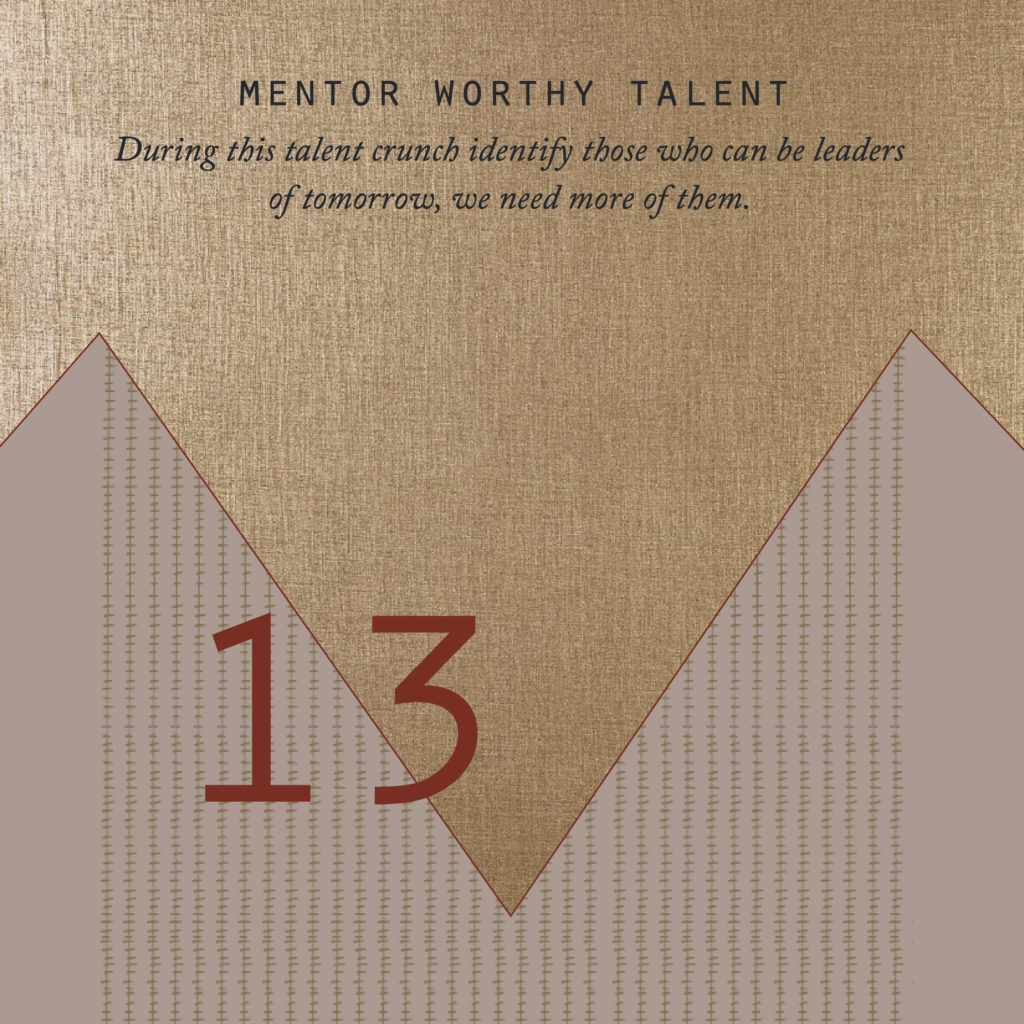 According to us this is the invisible crippling epidemic of our creative industries. It is a major concern and problem, and one we will be reporting on in more detail. 
Mentor worthy talent. During this talent crunch identify those who can be leaders of tomorrow, we need more of them.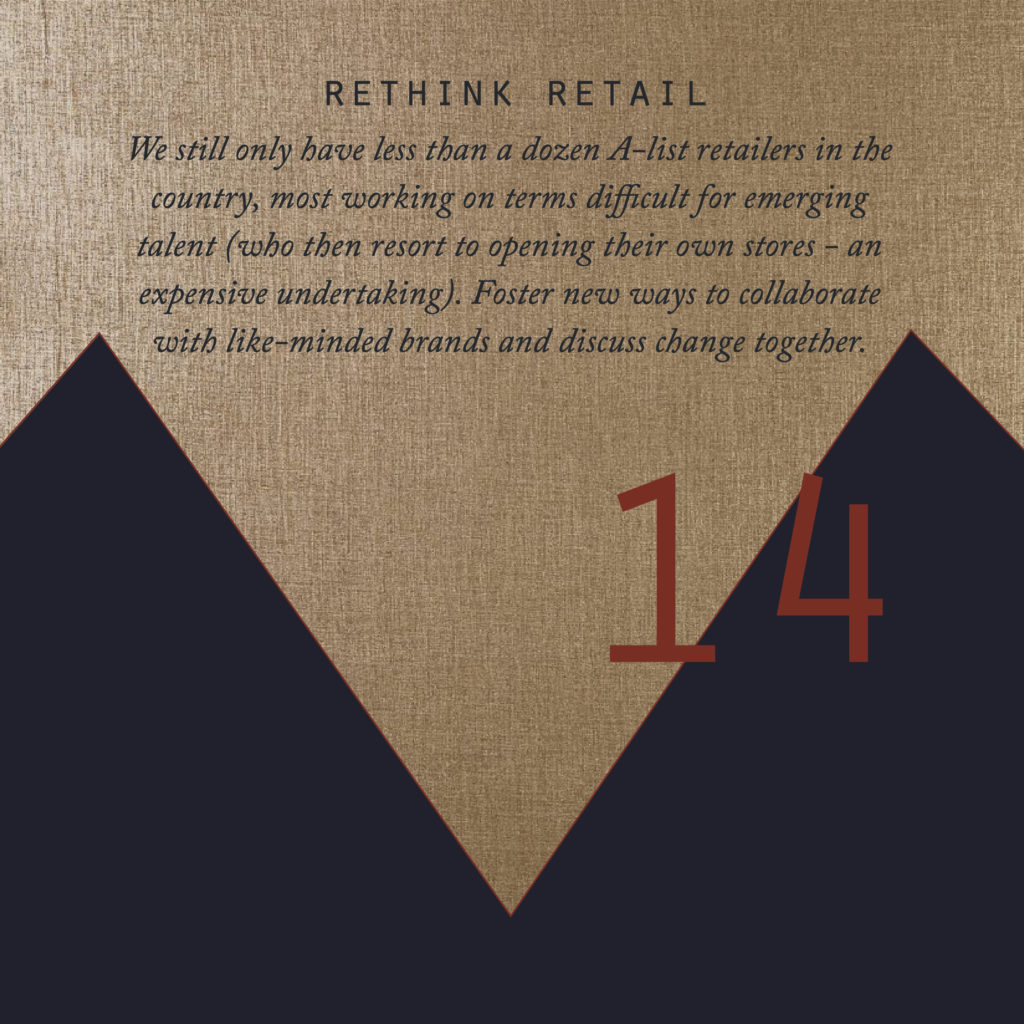 Rethink Retail. We still only have less than a dozen A list retailers in the country, most working on terms difficult for emerging talent (who then resort to opening their own stores – an expensive undertaking). Foster new ways to collaborate with like-minded brands and discuss change together – that's when it will happen.
Signed by: 11.11 / eleven eleven, Abraham & Thakore, Adiv Pure Nature, Akaaro, Akshay Tyagi, Alleyways Handmade, Ambika Magotra, Anaak, Anna Michelis, Antar-Agni, Anu Vishwanath, Anwar Razzak Khatri, Appleblossom, Ayca, Becca Rosen, Behno, Block Shop Textiles, Bodice, Border&Fall, Candy & Scotch Designs, Choti Geeth, Cotton Route, Craft Boat, Craft Revival Trust, Curated Accents, D'ascoli & Company, Delight Events, Dhora, Dress Circle, Ekaya, Fabindia, GALLERYSKE, Glamour Prints, Good Earth, Grassroots, House of Wandering Silk, India Kala, Injiri, Ira Studio, Iro Iro, It's All Folk,  Izel Homes, Jain & Kriz, Jaipur Modern, Jodi Life, Kardo, Kashmir Loom, Kloz Kraft Boutique, Label Meghna Panchmatia, Lex Weinstein, Loom to Luxury, Loom Tree, Looms of Ladakh, Manish Saxena, Manjha – The Travelling Thread, Matr, Max Modesti, Maya Weaves, Mayank Anand, Meera Kumari, Meera Patel, Megan Ryley (DTM), Metaphor Racha, Mrittika, Narayan Jewellers, Nool By Hand, Ojjas, Padmaja Krishnan, Payal Pratap, Phantom Hands, Prasad Bidapa Associates, Purearth, Rahul Jain, Rahul Mishra, Rajesh Pratap Singh, Rangsutra Crafts, Rashmi Varma, Ravage by Raj Shroff, Raw Mango, Rehwa Society, Ritu Kumar, Rooshad Shroff, Sagarika Sundaram, Scent of Himalayas, Seemakrish Textiles, Serendipity Delhi, Shift, Shradd Hanigam, Sidr Craft, Soma River,Sonica Sarna Design, Sonja Aggarwal, Studio Non Sequitur, Suket Dhir, Sunita Shanker Studio, Suruchi Khubchandani, Swavlambi, Tahsin Dhirani, Tara May Design, Tharangini Studios, The India Design Project, The Indian Sparrow, The Silk Chamber, The Silk Tree, The Stitching Project, Torrey Witherspoon, Twinkle Hanspal, We Are Kal, Weavers Studio, White Champa, Xx Syndrome, Y'aura Down to Earth Wellness and Zoltko.
For those interested in signing the Manifesto, please leave a comment for us below including your full name and business name, or email us at info@borderandfall.com.