The Beginning  I lived in Bareilly with my parents until we shifted to New Delhi to live with my grandmother because there was no school in our town. My love affair with androgyny started at a rather early age, and I think it has a lot to do with my environment. My parents brought my sister and I up to be open-minded and liberal, and in our household men and women are treated equally. Unfortunately, this isn't the case everywhere, but also being surrounded by women that were strong and independent played its role.
From as far back as I can remember, my thought process and inspirations dwelt in alternative cultures and places. I lived in New York for ten years, where I did short technical courses at Parsons and FIT, and eventually graduated with a Bachelor of Arts in Fashion Design. New York at that point – it was the late 1990's – was extremely vibrant and many of its subcultures were attractive to me. The energy was creative and open: from Soho, filled with artists sitting outside painting to a tiny jazz club up in Harlem. I worked at Patricia Fields where I met a ton of interesting people, and later as a visual merchandiser for Armani before I decided to go out on my own.
I began working on my line 'Rishta' out of a shared studio in the Garment District in 2000. The name is an ode to my relationship with my mother. At the time, what people associated most with India was how exotic, colourful and vibrant it is, while I wanted to talk about silhouette, especially androgynous ones. I was intrigued by different aspects of India rarely highlighted, that most people do not understand. It was a taste of India, but not from a conventional space. Taking historically Indian silhouettes but twisting, deconstructing and giving them a contemporary edge. It happened this way not with any particular intention in mind but because I'm from India. You just put your experiences together from belonging to a certain country and the places you travel to. The result was a collection that did not exist elsewhere. It sold at stores like Anthropologie, boutiques such as Seven, Barneys Japan and through trunk shows at Henri Bendel.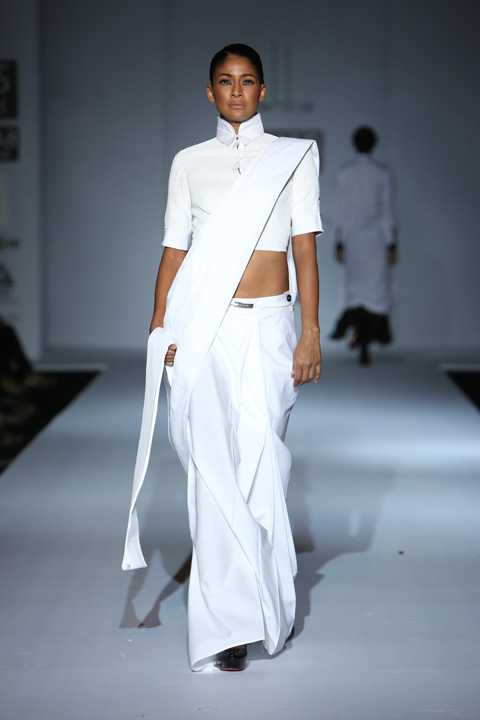 Above: Rishta Spring Summer 2013  source | WILLS Lifestyle Fashion Week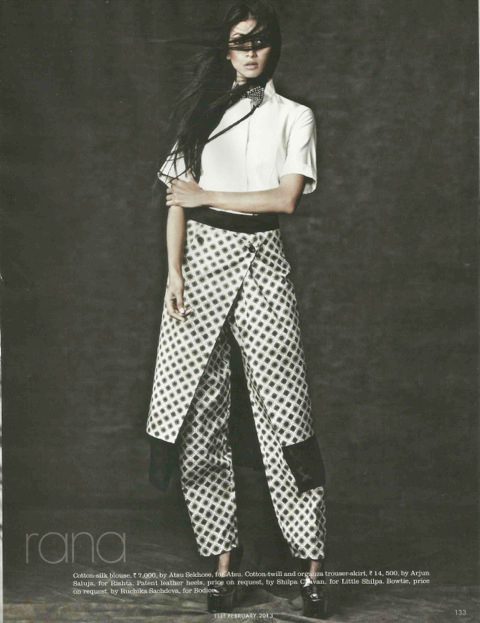 Above: Cotton-twill and organza trouser skirt by Rishta  source | ELLE India February 2013
On disparate markets After moving back to India, I took six months off. I wanted to spend some time to see what was happening because I hadn't been part of the culture for a while. Soon after, I began working on new collections and showing at fashion week. There are a lot of challenges here because the market is different and customers are different. Fashion is at a different stage in India compared to places like London, New York and Paris. We are a highly costume driven culture and one cannot neglect that. Costume is ingrained in our silhouettes. For example, we wear lehengas, anarkalis and saris for all our functions – no one thinks of a beautifully cut suit for a wedding. It's how women have grown up here, it's what is embedded in their heads. To break that barrier, you have to approach it in a different way, and break it down by offering new silhouettes that people want to wear.
You definitely need to tweak your concept so that you can present better. You have to edit because it makes your vision clearer. And you have to find your own way – by knowing what you want to say and then presenting it in a manner that is as close as possible to it.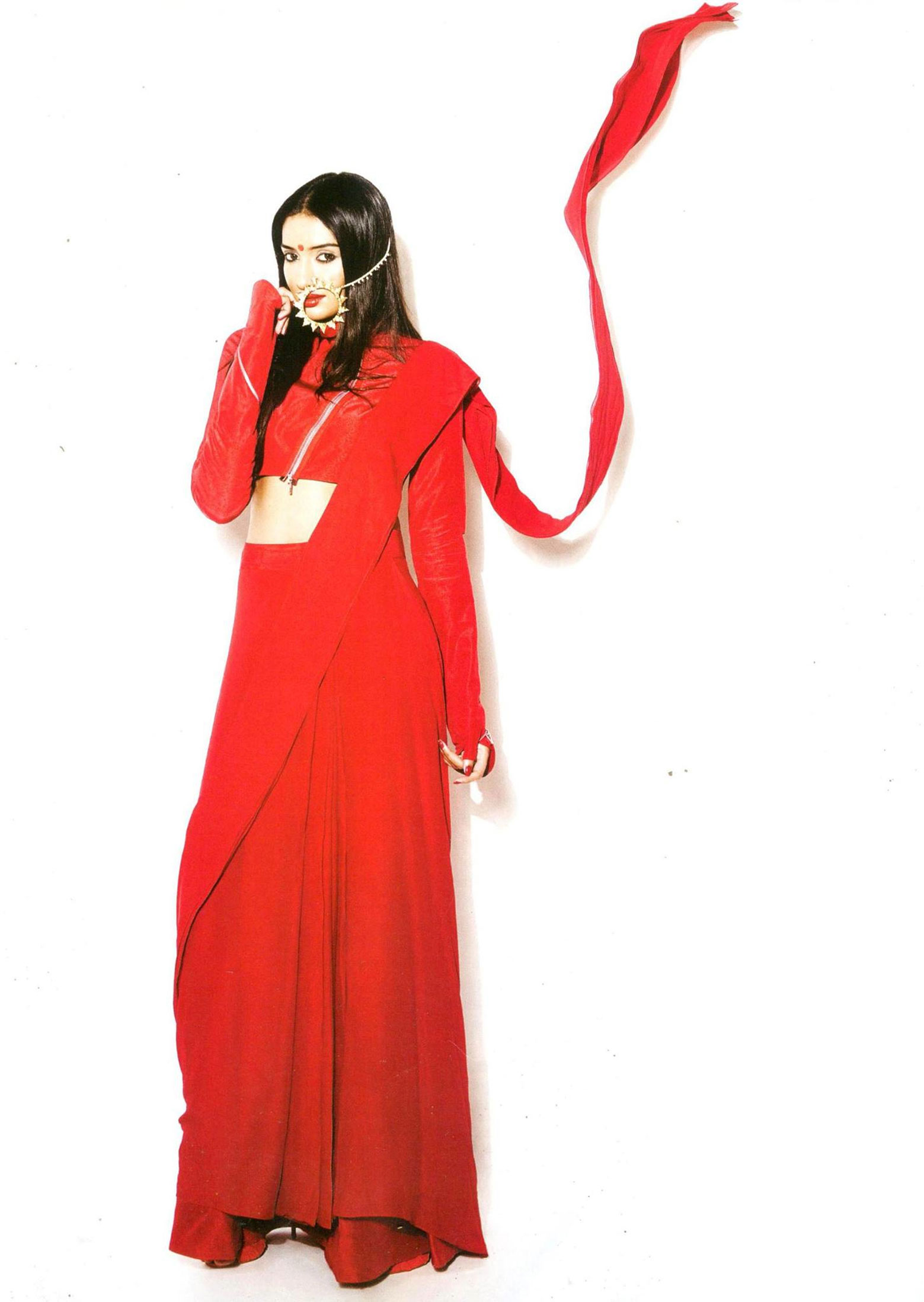 Above: blouse and sari by Rishta  source | Harper's Bazaar Bride – March 2014
People Pierre Cardin for his amazing futuristic vision – not just in his clothes but in his architecture as well. Richard Avedon's photography is a great inspiration too. Vivienne Westwood, for going her own way, and being able to capture her Brit culture with always a social undercurrent in her work.
I have had several friends who have helped me through my process. From conceptualizing stories to helping me push boundaries. We function like a collective, almost – many ideas come out of these conversations. I think inspiration is everywhere, from the street to a conversation to a film to an image in a book or a magazine. It all settles in your subconscious and automatically probes you to create your own vision.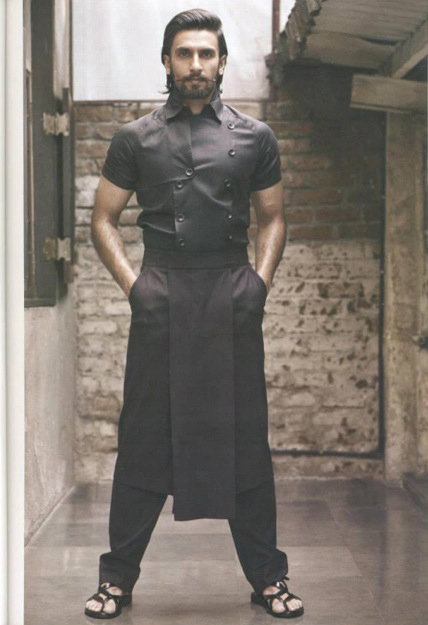 source | Platform November 2013
Androgyny in India I think it is misunderstood here. There is a tendency to perceive it narrowly, in terms of women wearing men's clothes and vice versa. Most forget about the reasons for it – the fact that women lead hectic lives and have a need for functional clothing. The language within the identity of my brand is unisex, like a mixed wardrobe. It affords the opportunity to play within oneself and explore both gender traits that we all have. But always keeping a utilitarian point of view. While I do feel pressure to design a more commercially understood line, I realize that it's about how I present my work so that it is understood, and there is a reaction – good or bad. I want to push the envelope.
The 'Essentials' line It stemmed from wanting to give the Rishta woman basics that hopefully make it easier for her to dress. It is lower priced and rather than being conceptual, it is meant to be pieces of clothing one could wear anytime. Techniques are derivative of the Rishta line, the intention being to simplify and deconstruct to get it down to basics.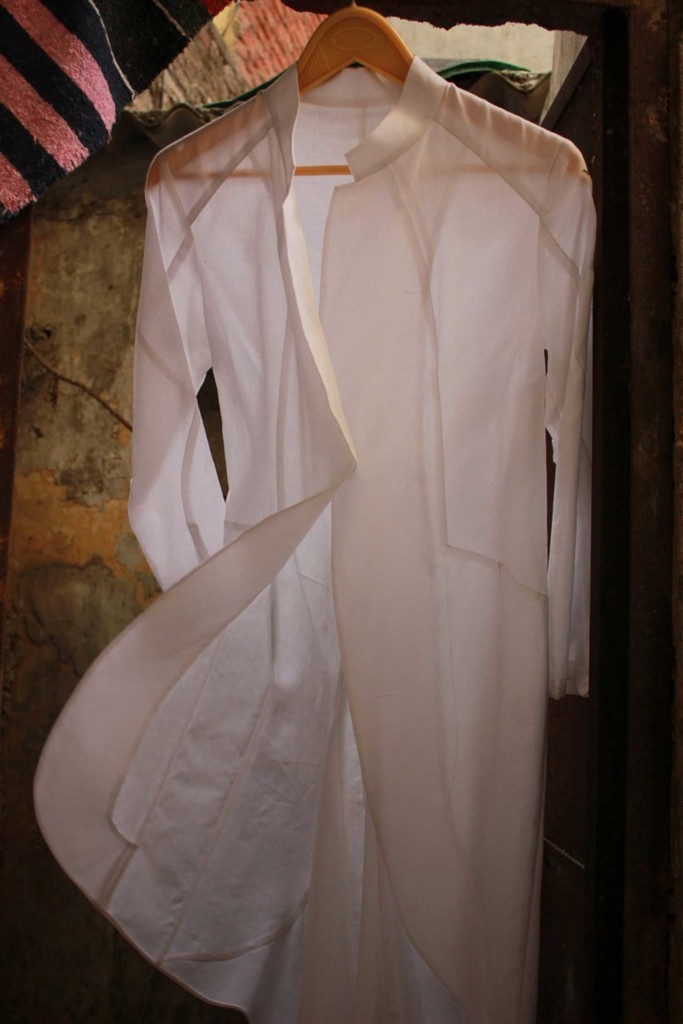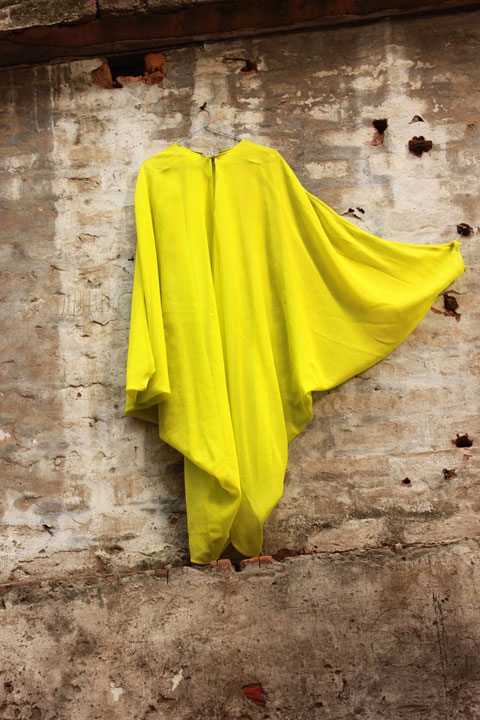 Above: the Essentials line
Recently while I was in Pakistan, I visited the National College of Art with a friend. The graduate students were showing their work and I got the chance to chat with them. I found their thought process and sense of vision quite amazing, and although there was complexity in their work, I loved the simplicity with which they spoke. It struck me that coming from a regressive society, the only way they can express themselves is through their art. Mediums like sculpture or photography had given them an alternative voice which was quite powerful. 
Digital references Deezeen and Yatzer are two websites that I look at often.  They are not fashion-centric but have more to do with architecture, film, music, art and design.
Work History  Rishta by Arjun, Founder, New Delhi, 2000 – present Khoj Art Collaborative and Gallery, Resident, New Delhi, 2011 Armani, Visual Merchandiser, New York, 1999 Nicole Farhi, Visual Merchandiser, New York, 1999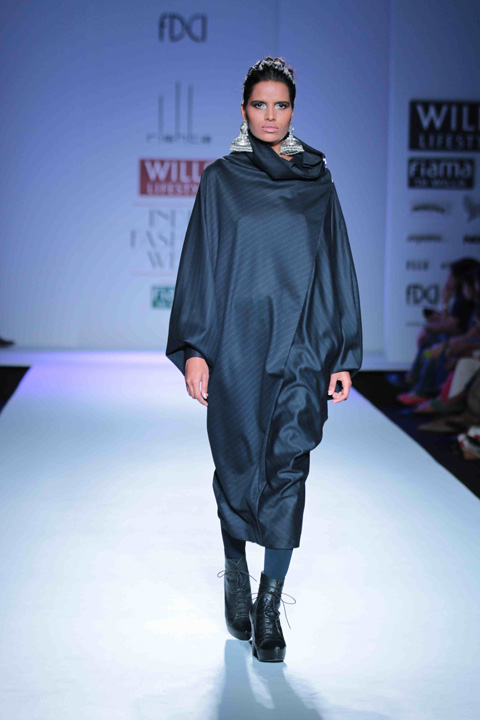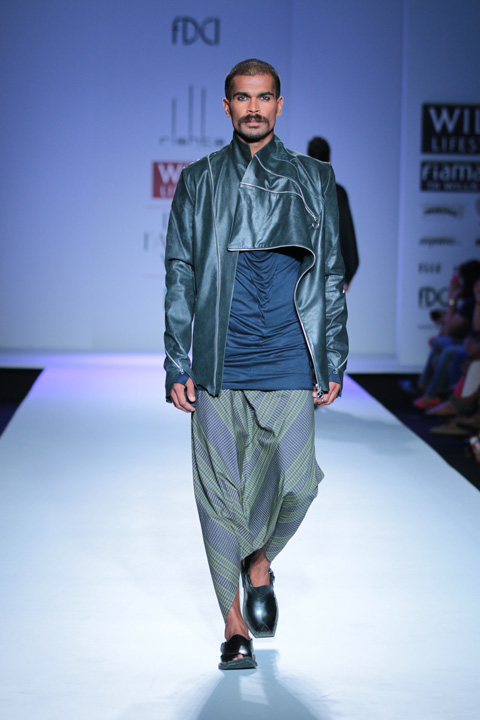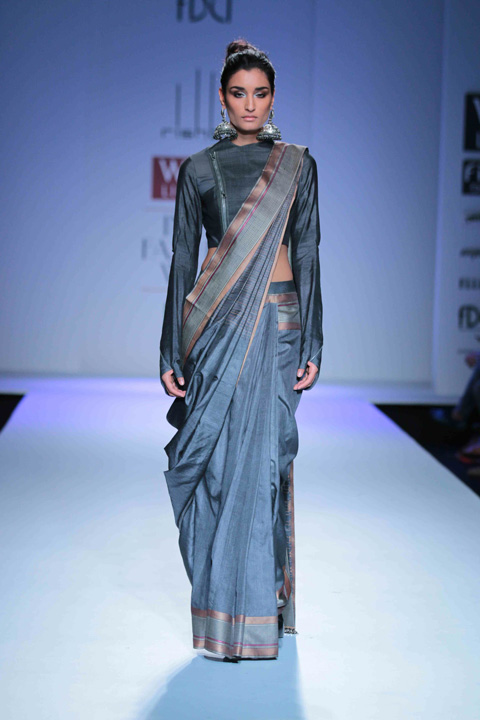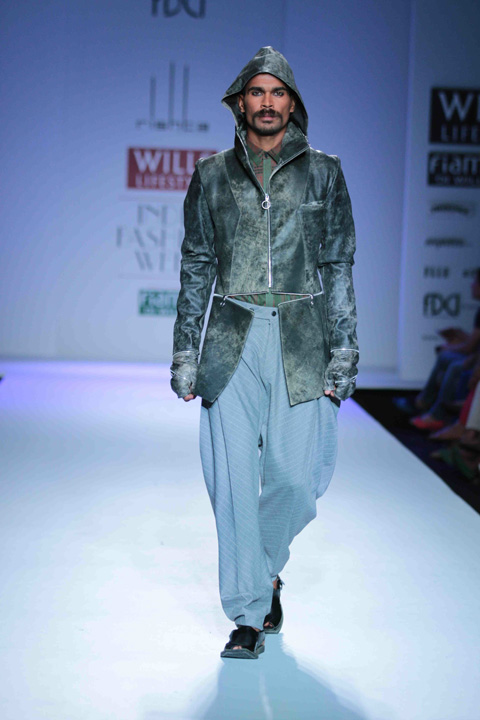 Above: Rishta Autumn Winter 2014  source | WILLS Lifestyle Fashion Week
Banner Image: Santu Misra